High end Paella Comes to London
Saturday, July 27th , 2019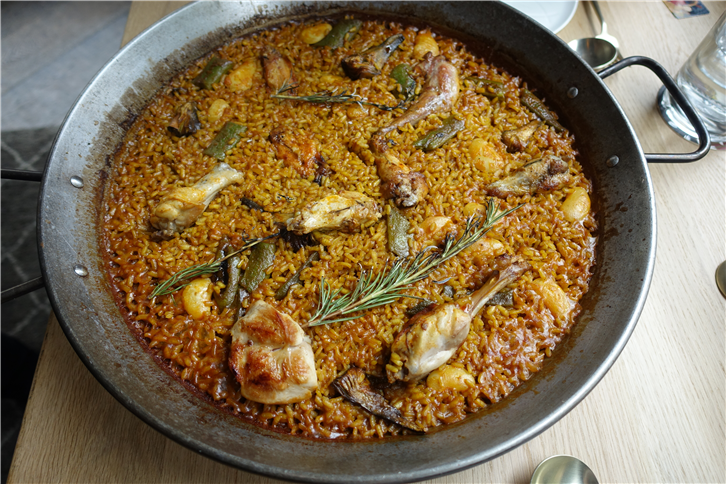 Lucknow 49 in Mayfair delivered an erratic meal, with a rather greasy biryani and a grim dried out halwa, yet with an excellent okra dish and with very good bread. It was a frustrating meal as anyone that can make this okra dish can clearly cook, but there were just too many problems elsewhere.
Arros QD is a high profile London opening from Quique Dacosta, who has a three Michelin star restaurant in Denia. The theme, as the name suggests, is around the cooking of rice, on which Mr Dacosta has written a book. Both a modern rice dish with eel and a traditional Valencia risotto (pictured) were very good, but some other dishes were less successful. Overall it was an enjoyable experience, but the bill was astronomical, and at this level everything needs to be spot on.
The Ritz is my "go to" restaurant in London now for the high end cooking following the closure of Hedone. At this visit we had a rather special dish, which you need to pre-order. It is pressed duck, a dish made famous at La Tour d'Argent in Paris. It involves a special device that allows the duck carcass to be crushed to extract the juices to enrich a sauce that also involves red wine, port and foie gras. This dish is very theatrical and not easy to get right, as a dismal experience at Otto's once showed me. The Ritz version was fabulous, using exceptionally high grade duck – Bresse duck from a top producer – and the sauce showing superb technique. Paired with pommes soufflé and some much needed green vegetables for balance, this was a remarkable dish. The rest of the meal was lovely too, with terrific langoustines, lovely red mullet and two gorgeous summery desserts.