From Egham to Park Lane
Saturday, July 15th , 2023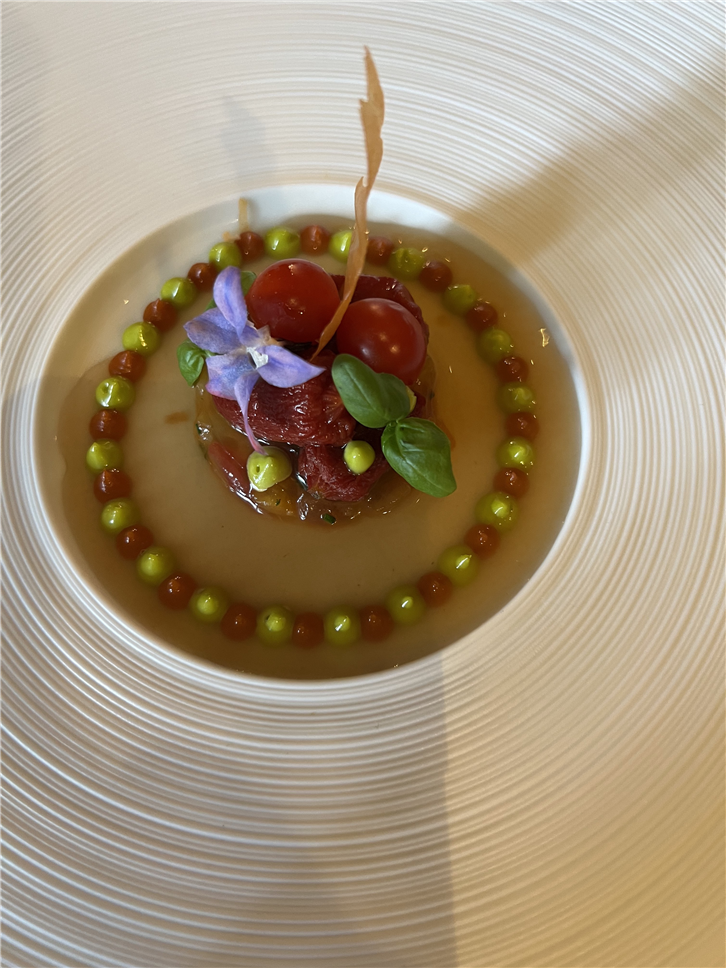 The Tudor Pass is the new incarnation of The Tudor Room, with a new chef and a fresh menu. We had a lovely meal, with an exceptionally good tomato dish (pictured) as well as excellent French quail and black bream dishes, as well as good desserts. This was an impressive meal.
Sushi Kanesaka is a venture outside Japan of the restaurant of the same name in Tokyo. In the posh Dorchester Hotel 45 Park Lane, it has just 13 seats and is certainly not cheap, charging £420 for the sushi. This is more than in Tokyo and it is hard to objectively suggest that is good value, but what is true is that the sushi experience was extremely good, every bit as good as its sister in Tokyo.
The Ritz turned out another really lovely meal, with a new potato and oyster dish and a new honey and lemon tart, in amongst several regulars like the pressed Anjou pigeon and the duck liver ballotine. I have written about this many times, but the meal that I ate here was better than anything I have eaten at the current clutch of London 3 star places, so Michelin really is being peculiar in its assessment.
I also had another excellent meal at Black Salt, but I mostly tried dishes there that I have written about multiple times, so did not write a fresh review. Suffice it to say that Black Salt is serving some of the very best Indian food in London.