Bombay mix
Saturday, April 13th , 2013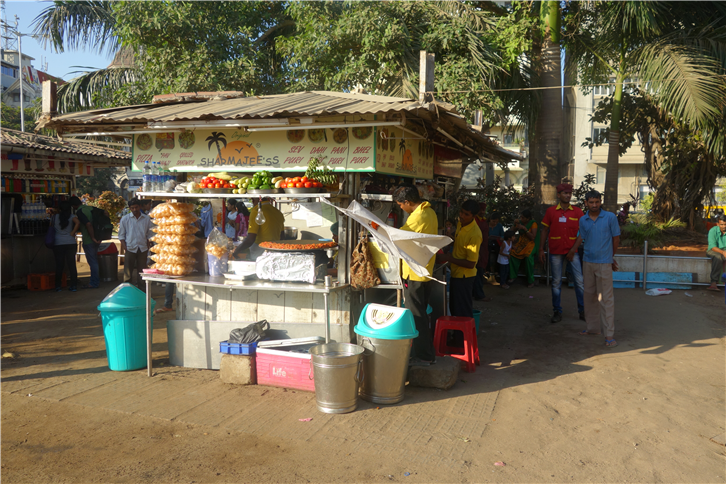 Mumbai is the commercial heart of India, a sprawling city of 12.5 million people, with traffic to match. It is quite cosmopolitan from a food perspective, and offers everything from bhel poori snacks on the beach to smart European and Asian restaurants. On this short trip I mixed it up a little, eating some street food on Chowpatty beach and at Bade Miya, vegetarian food at Shree Thaker Bhojonalay and also up-market fare at Ziya and Koh.
The street food was a mixed bunch. I tried some pretty dull, bland dishes on Chowpatty beach, but there was one really good place, a well-known stall called Bade Miya, which has been trading since the 1940s in a side street in southern Mumbai. This serves a number of dishes, but I enjoyed the chicken-tikka wrapped in a soft roti, which would have passed muster in a smart restaurant, and cost less than £2. This is a very well-known stall, and I saw taxis and limousines drawing up to pick up takeaway versions to transport to wealthy parts of the city.
Shree Thaker Bhojanalay is a tiny vegetarian restaurant that I had tried on a previous trip, so I was pleased to get the chance to pop back and try its thali once more. Just as before, the dishes were excellent, served in endless quantity and all for less than £4 a head. No wonder they do up to 300 covers a day in their little dining room.
One paradox of the emergence of Mumbai as a prosperous global city is that many of the new middle class want to eat exotic foreign food rather than Indian. Hence there are flashy European and Chinese restaurants, Japanese places and Thai; there is even a branch of Hakkasan. An example of this new breed is Koh, a Thai restaurant opened by a chef who has prospered in New York and own has restaurants in Barcelona and Bangkok too. It was certainly very smart, but the food seemed ordinary and overpriced to me. Judging by the almost total absence of other diners on the night of my visit, I am not the only one with this opinion.
The smart Indian restaurant that I tried was Ziya at the recently rebuilt Oberoi hotel. I had two meals here and they were both good, a pomfret dish in particular being excellent. This is subtler food than to be found on the streets, with nice presentation, clearly aiming at the affluent of Mumbai. With a lovely view and good food I felt that it succeeded quite well.