Visiting Liverpool
Saturday, December 01st , 2018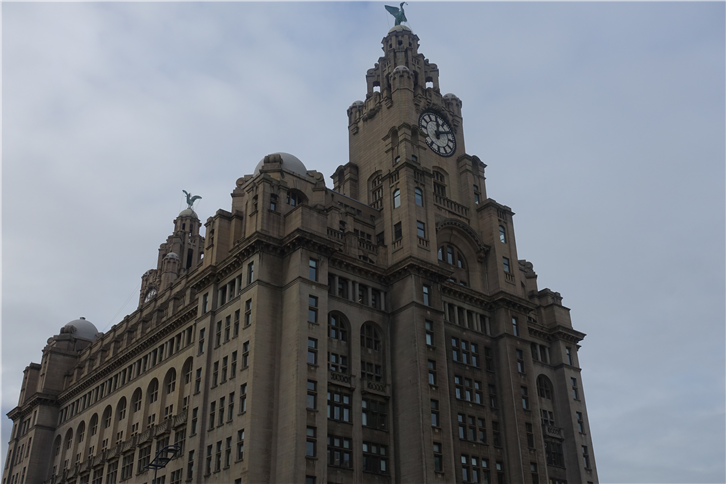 It is a long time since I have been to Liverpool, a city that once accounted for 40% of the world's slave trade, and was at one time the UK's second city based on its trading links with the USA in particular, including the cotton trade, along with tobacco and spices. It has some handsome buildings from its industrial era, including the Royal Liver insurance building (pictured), which at one time was the tallest building in Britain. The city has redeveloped the docks area tastefully, and is looking visibly more prosperous then when I first came here in the 1980s. An example of this regeneration is the Baltic Bakehouse, tucked away in an industrial street in the docks area, where sourdough bread is made from scratch and excellent sandwiches and coffee are served. On the restaurant front we tried Roski and Mowgli in the city itself, and Fraiche over the other side of the Mersey in Birkenhead as well as Moor Hall, which is 13 miles north of the city.
Mowgli in Water Street is one of a growing little group of Indian street food restaurants set up by former barrister Nisha Katona. The menu is quite unusual, offering familiar dishes like bhel poori and butter chicken, but also an Indian take on a chip butty. It was bustling and lively, the staff friendly and the food enjoyable. It was remarkably busy, even early on a Monday night, and tables were being turned at a brisk rate.
Roski is headed by a former winner of the TV show "Masterchef: the Professionals". It is a quite cosy place, and on the evening if our visit was playing an appealing Motown soundtrack in the dining room. The food was a touch erratic but generally good, with a nice guinea fowl main course and an interesting red cabbage Bolognese. The wine list needed some attention but this was an enjoyable place to visit.
Fraiche is one of those rarities, a restaurant with a solo chef in the kitchen. Marc Wilkinson has maintained a Michelin star here for a decade, and deservedly so based on this meal. The restaurant has just five tables and has an intimate feel with charming front of house staff. The food is surprisingly elaborate given that the chef has no help here, and we particularly enjoyed a beautifully cooked brill dish with watercress sauce. The excellent bread is made from scratch, so there are no shortcuts here, and the wine list is a joy, with many of the better bottles barely at their retail price.
Moor Hall gained a Michelin star immediately after it opened, and second star the following year. It is set in a carefully restored 16th century building, which also has a few rooms to stay. The food was sophisticated and enjoyable, with an eel and apple nibble in a crisp potato nest an especially impressive dish. Service was silky smooth, and the Coravin system allows the entire wine list to be enjoyed by the glass, which is a great since there are some lovely bottles at the high end of the list tucked away at fairly modest markups. On this occasion Michelin got it spot on with the second star accolade, and I would highly recommend Moor Hall if you are ever in this part of the world.
The Michelin guides to Kansai and Tokyo came out. L'Osier regained its third star in Tokyo, but otherwise there were no changes at the three star level. Osaka has 4 three stars, 16 two stars and 79 one star restaurants. Kyoto has 7 three stars, 22 two stars and 75 one star restaurants. Tokyo has 13 three stars, 52 two stars and 165 one star restaurants.
The Bay Area 2019 guide also came out. The Michelin US guides have typically been very generous relative to other areas, and this edition saw both Atelier Crenn and Single Thread in Healdsburg elevated to three stars. Coi was demoted as expected. This means that San Francisco now has eight 3 stars, 6 two stars and 44 one star restaurants. The ratio of three to two stars is unprecedented as far as I am aware. You would normally expect there to be four or so two stars for every three star, as indeed can be seen in the Japan guides.