A Brief Tour of France
Saturday, June 29th , 2019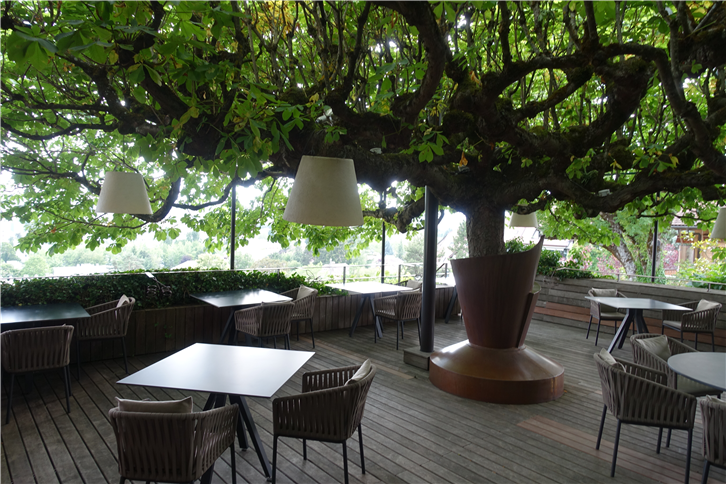 Takao Takano was a former head chef of a two Michelin star restaurant in Lyon, and for a few years now has had his own restaurant, achieving two stars in his own right. His cooking is modern and has a clean, appealing style, making the most of the excellent suppliers that abound in and around Lyon, such as a top supplier of Bresse chicken. There were some excellent dishes and the restaurant definitely deserves its rating. Lyon is a great food city, packed with lovely places to eat.
Clos des Sens (pictured) is the newest three star Michelin restaurant in France, set in a pretty location in the hills overlooking lake Annecy in the distance. There is a spectacular terrace sheltered by two carefully trained trees, and the emphasis is heavily on very local ingredients. There were some nice dishes but the odd disappointment too, and I couldn't get my mind around this having three stars, not by a long way, though there were a few relative wine bargains to be had.
This kind of experience has happened all too often with recent Michelin three star elevations. Just looking at France, recent promotions have been, in addition to Clos des Sens, as follows. The last eight years have seen Mirazur, Christophe Bacquie, Maison des Bois (since demoted), 1947, La Bouitte. Assiette de Champenoise, Residence de la Pinede and Flocons de Sel all given the ultimate third star. It is 2010 since Auberge de Vieux Puits was promoted that I scored one of these promoted places either a 19/20 or 20/20, which to me is "true" three star level. What puzzles me is that there are several terrific places in France that I would have no issues with at all if they were promoted, such as Sa Qua Na in Honfleur or Les Crayeres in Reims, but Michelin seems to have an uncanny knack of picking places that, to me at least, just don't make the grade at the very top level.
About an hour from Lyon is Troisgros, a legendary restaurant now with a fourth generation of the Troisgros family heading the kitchen. A couple of years ago they moved out of their urban location in Roanne to a site a few miles away in the countryside. No expense has been spared on the new place, the dining room an all-glass corridor between two old farmhouses. The food is quite modern in style, rooted in fine technique but with several genuinely inventive and exciting dishes. The gap in quality between Troisgros and Clos des Sens was something of a chasm in my view.