Umu revisited
Saturday, July 21st , 2007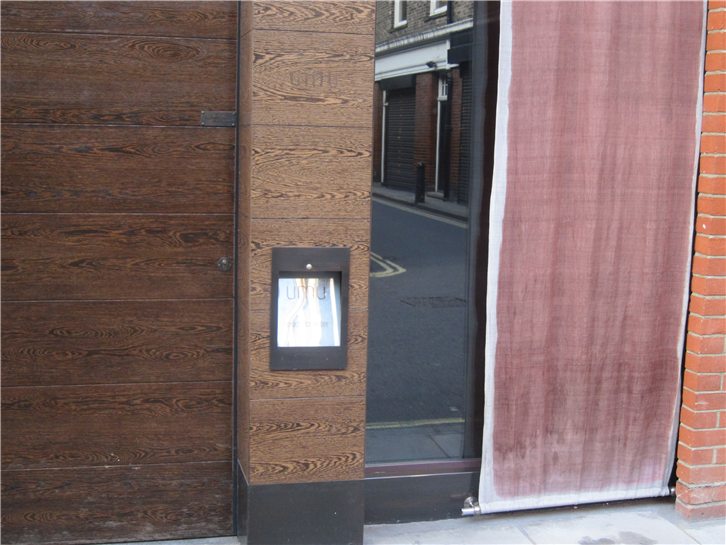 When Umu (pictured) opened it caused headlines by offering among its set menus a £200 kaiseki banquet (which now seems to be £175) yet in fact it is mostly just rather expensive instead of extraordinarily so. My experience this time was rather similar to my first visit - it was not as expensive as I had expected, nor as good. Certainly ingredients are top notch, with two different grades of wagyu beef and very fresh fish, but you pay for the luxury items. Wagyu beef is the breed of cattle used in Kobe beef, the most luxurious beef on the planet, where the cattle are pampered and literally massaged prior to slaughter to ensure an ultra-tender meat. The top wagyu beef here was £55 but, since you cannot get true Kobe beef here, they use Australian wagyu beef. I have never found either US or Australian wagyu beef to be anything like the real thing, and tonight it was pleasant but really not special, which is not what you hope for at this price. You just have to save up and go to Kyoto. Otherwise dishes were again pleasant e.g. very good toro (tuna belly) and prettily presented, yet nothing really lifts the cooking beyond good. I am heading off to Zuma on Monday and I suspect I will prefer it.
Otherwise Zafferano delivered yet another fine meal, with superb salad ingredients of the kind I despair of trying to get hold of in London. These fine ingredients e.g. tasty baby carrots and peas, fresh delicate salad leaves, come from a mix of a market in Italy (flown in regularly), and some specialist suppliers in Kent. A home-made pasta dish with morels had silky pasta and morels with excellent flavour.
Down to earth, or in this case Ground with a local meal in the burger chain that is competing with the excellent Gourmet Burger Kitchen. In short it doesn't compete at all. Though chips were pleasant, the burger itself was poor, the meat being too dense and having distinctly gristly elements that should never happen in a place trying to serve an up-market burger. A vegetarian burger was very sorry for itself, a dried out, tasteless thing. Ground should just be buried.
A far better experience was had at Tangawizi, which is emerging as one of London's top Indian restaurants. With its combination of a chef from Bhukara in Delhi and the talented ex-chef from Yatra, the cooking here is dramatically better than you might expect from a place on the wrong side of Richmond Bridge. A special tonight of tandoor prawns with ginger was dazzlingly good, while chicken tikka and both bhindi and dal were superb. I have upgraded this to 4/10 based on this and other recent meals here. The critics (except Michelin, who give it a bib gourmand) have entirely neglected this place, presumably because of its out of town location, but it is hard to think of anywhere in London that is genuinely better than this right now.
Finally, I have added three food and restaurant quizzes to the site under the "trivia" section, just for a little fun. They range from easy to hard as indicated. Give them a try and let me know what you think.