Haozhan reviewed
Saturday, April 05th , 2008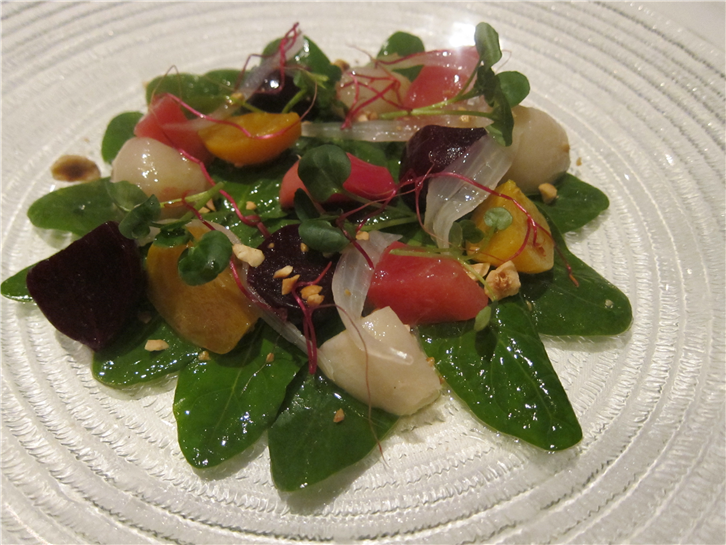 Haozhan
is a smart addition to the Chinatown scene, and the cooking is a class above most places in the area. The menu is the worst kind of modern marketing nonsense though, complete with a "concept" and a few ludicrous menu options, presumably in the hope of being seen as modern. If you can ignore this and just stick to the Cantonese classics, the kitchen delivers very well, at fair prices.
Shilpa
is on the site of the ill-fated Ootupura, and is also a South Indian restaurant . The Keralan cooking was not bad though curiously inconsistent, with some nice dishes mixed with a couple of blunders. However service, on the quiet night we visited, was simply catastrophic. I was moved to stack my own dirty plates on the side of the table myself, having despaired of the waiters ever getting around to it. I have done this once before in a restaurant, but that was in Harlow.
I had yet another fine meal at
Zafferano
. Certain dishes here are hard to beat: pasta sheets with porcini mushrooms had perfect pasta and superb mushrooms: a very simple dish and yet one that was hard to imagine could be much better. The wafer thin carta de musica bread (a Sardinian speciality) was lovely, ultra-thin with just a touch of salt seasoning. Zafferano's obsession with ingredients (many are flown in from Italy three times a week) is their great strength, seen in the salads (one is pictured). Three large langoustines served in their shell had excellent flavour, served with a simple dressed salad, and again this reflects the style of cooking here: minimal fiddling with top-notch produce.
The restaurant has had some
headlines
recently about a problematic bottle of Petrus. It seems that there is a
booming
trade in fake wines these days, to the extent that after investigating the offending bottle (which was pronounced "bad" when investigated so one assumes probably fake, rather than just a faded glory) the agents of Chateau Petrus asked the staff at Zafferano to destroy the old bottle. It seems that empty bottles of fine wine can attract buyers, who promptly refill them with some ordinary wine and re-cork the bottle prior to reselling it. Personally I am impressed that the diner could actually tell that the Petrus bottle was dodgy; I'd always suspected that some of the city trader types who bought such bottles would struggle to tell a Petrus from a Piat d'Or.
The
Fish Shop on St John Street
is a reliable source of good quality fish and chips. There is a quite wide menu of other options are on offer as well, but I confess to rarely making it past the haddock and chips. A visit this week showed it to be its usual reliable self, with a nicely seared slab of tuna with cherry tomatoes and carefully cooked fennel.
In other news the old Scandinavian restaurant Lundums has closed its doors. Interestingly, the new owner will be
Jean-Christophe Ansanay-Alex who runs the two-star Auberge de l'Ile restaurant in Lyon. Let's hope he makes a better fist of things than Alain Ducasse at the Dorchester.