Mumbai and Singapore dining
Sunday, August 14th , 2011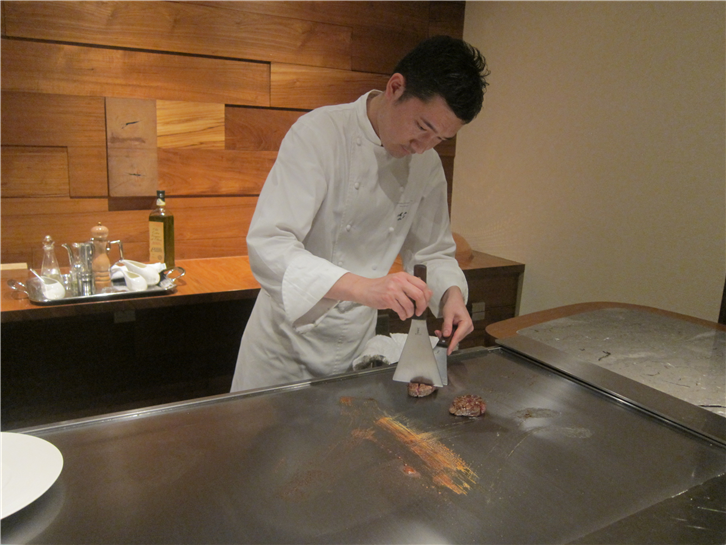 Mumbai is a challenging city for a visitor, due to its truly dire traffic and chaotic nature. The area down by Marine Drive has some nice views out to sea (but we are not talking some azure Mediterranean view here however, the sea here being a grey/brown colour), the famous Chowpatty beach with its stalls and hawker food, and some fine if poorly maintained grand buildings from the colonial era. Nearer the airport are a clutch of smart hotels, but bear in mind that it can take well over an hour to drive from that area to downtown, even with the help of the new Sea Link toll road (a rare road in India with several lanes and no potholes, at least not yet).

I was fortunate to be shown around by Rashmi Uday Singh, the number one food writer in India and columnist for the Times of India. She took me to two venerable Mumbai restaurants, very different from one another. One, Gaylord, was very smart and serves traditional north Indian food. The other was a simple vegetarian place called Thaker serving Gujerati food. The latter was tucked away in a hectic alley near the market, accessed via a grimy corridor and up some flights of stairs. Despite the contrasting settings, I found the food at Gaylord very ordinary, whereas Thaker had really vibrant spicing and some delicious snacks. The meal at Thaker (all you can eat) cost less than £4, which would not buy you a small glass of beer at one of Mumbai's smart hotels. Rashmi wrote up our evening in her weekly Times of India column that week, and it was odd to be in a distant country looking at a photo of yourself in the newspaper (the print and online editions of this newspaper differ, including their photos).

I returned to Peshawari at the ITC Sheraton, which is modelled after the well-known Bhukara in Delhi. It offers north Indian frontier food, with most dishes coming from the tandoor. It is very good, though is distinctly pricy, at more than ten times the price of the meal at Thaker. A pint of beer at Peshawari cost more than £10, and yet the place was full, an indication of how much wealth is being created at the top of the heap in Mumbai these days.

It was a contrast to move from there to Singapore, which must be the most well-organised city in Asia. The airport is a delight; from touching down on the tarmac to sitting in the taxi took 25 minutes flat, including picking up checked luggage and clearing immigration. Singapore operates the most sophisticated traffic management system in the world, a system rather like London's congestion charge but with variable charges according to how busy the traffic is, and the consequence is that the traffic flows freely. Taxis are bizarrely cheap and plentiful, in addition to the city's excellent mass transit system. The city itself is very modern, though efforts have been made in recent years to "green Singapore" via extensive tree planting throughout the city, and indeed this was noticeable compared to my last visit here over a decade ago.

The restaurant scene has moved on since I was last here; I used to travel to Simgapore quite regularly in the 1990s, but at that time there were some pleasant Chinese restaurants but nothing really high end. These days there are plenty of ambitious restaurants, of which I tried four. Iggys is perhaps the most well-known, serving elaborate modern fusion food. It was good, though the kitchen seemed to be straining to be elaborate for the sake of it at times, and yet took some short-cuts in other places that detracted. I preferred Gunthers, a small restaurant run by a Belgian chef and serving much more classical French food. This was excellent, with very friendly staff. I was disappointed by Jaan, which has managed to lose not one but two head chefs in the last eighteen months (the last a few weeks ago in controversial circumstances), and the spectacular 70th floor view could not make up for some quite ordinary, expensive and at times curiously tasteless French cooking. Hayler's law: "food gets worse as it gets higher" applies here.

However the best meal by some margin was at Waku Ghin, the first venture by Tetsuya Wakuda outside Sydney. Rather than mimicking the fusion formula of Testuya in Sydney, Waku Ghin is straight down the line Japanese cooking. The large and lavish premises accommodate just twenty diners, with almost as many chefs working as there are guests. You sit in teppan style at a bar across a hot plate from your own dedicated chef (pictured), and we were treated to dish after perfectly cooked dish in a meal that used top ingredients from both Japan and Australia in particular. The owner happened to be in that night, and he spent a generous amount of his time chatting with us in between courses: he seemed a genuinely modest man, passionate about food.

Next week the blog will cover China.