Alan Yau opens Naamyaa
Saturday, January 12th , 2013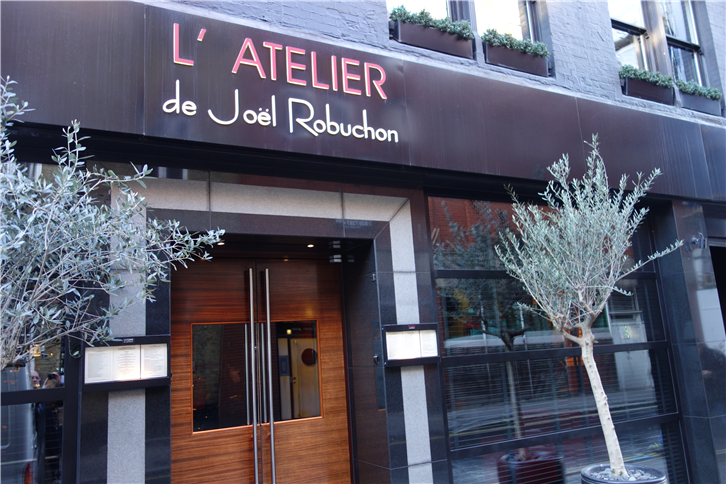 Naamyaa is the latest venture from the prolific Alan Yau, who brought you Wagamama and Hakkasan, as well as Busaba Eathai, all now successful chains that Mr Yau has sold on. Naamyaa is a casual, all-day Thai diner, the first branch of what undoubtedly will be a chain being situated in Islington. The décor is attractive, the cooking a little up and down but generally good, the staff friendly and the price levels modest. Despite a few oddities (I am hazy as to why a Thai café should offer burgers) the place was buzzing even late on a quiet January weekday evening, and doubtless will present Mr Yau with yet another commercial success.
Atelier Robuchon (pictured) is perhaps the most ambitious chain restaurant from a culinary viewpoint. With branches now from Tokyo to Taipei as well as the original branch in Paris, the carefully packaged Atelier offers classical French food, but in a deceptively casual setting. You set at bar stools, and are encouraged to ordered tapas style from the starter selection. The cooking is technically accomplished, as shown with excellent tarts for dessert, and the dishes are prettily plated. Yet as with all the Ateliers I have tried, the sky-high pricing leaves no room for error, and the service in this case was distinctly off key. It is certainly a capable restaurant, but two Michelin stars seems one too many to me.
Portes des Indes is a vast Indian restaurant owned by the same company that run the Blue Elephant chain of smart Thai restaurants. The formula of lavish décor (Portes des indes has full sized palm trees and a waterfall) and equally lavish prices is similar to the Blue Elephant. It had been perhaps a decade since I last visited, so it seemed time to catch up, but another decade or more will go by before you catch me here again. The surroundings are smart, the staff smooth-talking, but the prices are simply absurd for the level of food delivered. There are flashes of competence: a decent naan bread, and a really quite good crab starter, but these were only flashes. The most egregious dish was a parsee fish in banana leaf, which used tasteless lemon sole and hardly any marinade, resulting in an utterly bland plate of food. With a distinctly sub-par tandoori mixed grill weighing in at £25, the bill was already heading skywards before you factor in the £6 mineral water that the staff push on you in preference to the slightly cheaper Hildon water that is available. I am just surprised that it keeps going at all, based on this meal.
Brick Oven is a Milan mini-chain of casual eateries, that has now expanded into west London. They have chosen an awkward commercial site that has seen off a series of restaurants, good and bad, over the years. The speciality is Milanese style pizza, which has a very thin base, though a range of dishes are offered, from pasta, through grilled meats and even burgers. A £24 tuna steak seems like ambitious pricing for a local restaurant, though the pizzas are not excessive by the standards of the day. The meal was harmless enough, with a decent salad, a rather tasteless soup and an adequate pizza, and the staff were friendly. However the area is full of pizzerias, and in particular is just a few minutes walk along the road from the excellent Franco Manca, so it is not clear to me that the new kid on the block will prosper, adequate though it is as a local eaterie.