Sushi comes to Kensington
Saturday, December 04th , 2010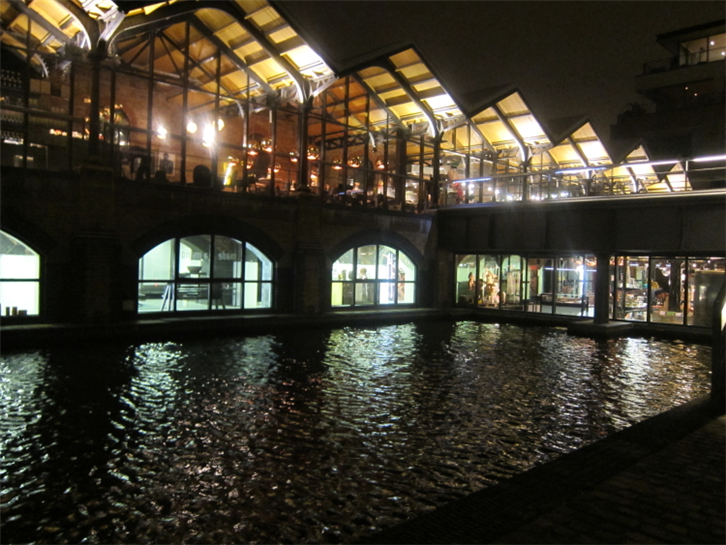 Yashin Sushi is a fairly new sushi bar in Kensington, with chefs from Nobu and Yumi. That influence comes through, as although the fish quality is high (from the same supplier as Nobu) there are distinctly modern touches. For a start, with some ingredients the chefs briefly sear the fish with a blowtorch in order to give a hint of sweetness, while most of the sushi comes with a little garnish, say a tomato salsa. Although this may not appeal to everyone, the flavour combinations were sensible and there was good attention to detail: a side salad, so often an afterthought, was here unusually good. Prices are a little high, but the cost of good quality sushi is, after all, high as well.
Dock Kitchen (pictured) is a desperately fashionable restaurant in a beautiful glass building overlooking the Regent's Canal, near the far from beautiful Kensal Rise. Based around a supper club but now in permanent premises, the kitchen offers a no-choice menu which varies monthly, sometimes switching into entirely different cuisines. Perhaps the chef knows how to cook some other cuisines better than the one that I tried, which was a sort of fusion of English and Mexican with hints of the Lebanon. Much as I loved the room and the buzzing atmosphere, the food itself ranged from ordinary downwards, including a tragically dried out pheasant dish that I was unable to finish. Here is a tip for restaurateurs: when a diner sends a dish back it is probably because he or she is unhappy with it, and some sort of gesture of apology is probably a good idea. Even if you think the diner is an idiot, a response like "sorry you didn't enjoy the dish" would be tactful. The response that I received: "we checked and it was fine" (no, it really was not) is unikely to endear you to the already unhappy diner.
The Duke of Sussex serves robust food with a heavy Spanish influence in a pub setting. The fact that they make their own bread endears them to me, as does the bold seasoning and hearty dishes. This is not in any way fancy and presentation is an afterthought, but dishes such as paella, or rabbit with bacon and lentils have plenty of flavour. There is lots to choose from the fairly lengthy and changing menu, and prices are very keen.
The Bombay Brasserie produced another good meal. It won the Best Restaurant in London at the British Curry Awards (The Brilliant won the London suburbs awards), and although the large hotel dining room may not be to everyone's taste, the food is consistently good here since the major refurbishment and change of kitchen staff. Seafood is particularly well handled, such as scallops with pepper crab, or spicy prawns, while breads are also very good.
I had a superb meal at the Ledbury this week, comfortably the best meal that I have eaten there. It was a special tasting menu arranged by some regular Ledbury diners, and featured some really fine produce and top class cooking. One langoustine dish and in particular the venison main course were out of the top drawer. I have nudged the web-site score up a point to reflect this, and indeed this meal was clearly at a solid two star level.
The Michelin Guide to Hong Kong and Macau came out, and awarded Cantonese restaurant Sun Tung Lok three stars, which is remarkable given that it had no stars at all last year. Additional two star restaurants are
Celebrity Cuisine Cuisine
Cuisine at the Mira
8-1/2 Otto e Mezzo
Pierre
while three places lost their second star, meaning that Hong Kong now has nine two star restaurants, with Macau now having three with the promotions of Tim's Kitchen and The Eight. The Michelin Hong Kong 2011 Guide gets a prize of sorts as being the most volatile Michelin Guide ever, with a 39% increase in stars in 2011 over 2010. By comparison, Germany increased by 7% and Belgium by 2%, while Portugal is the only guide to have lost ground, with an 8% drop in its stars in 2011. The only remaining 2011 Michelin guides to appear are the UK (January 17th), France (early March) and the Main Cities of Europe (late March).