This week I try Saf and Fifteen in Hoxton
Saturday, March 21st , 2009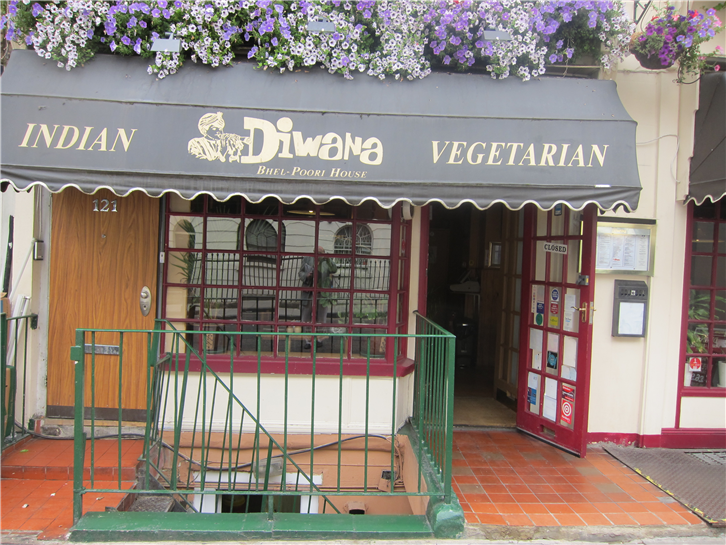 I finally got around to eating at
Fifteen
this week, a bustling place which seems immune to the economic times, filling a sizeable premises (based on the previous association with Jamie Oliver, who founded the charity) in a particularly unappealing side street in a grotty bit of Old Street/Hoxton. The menu is appealing, the quality of the produce quite good, and there are nice aspects such as the excellent wine list and the surprisingly assured and capable waiting staff. However, at prices only a smidgen below that of serious Italian restaurants, it is objectively poor value for money for what is, charitably, 2/10 level cooking.
The East London theme continued with
Saf
, a vegan restaurant. It is remarkable how this part of East London has transformed in recent years. When I used to live in the East End in the 1980s even the Dobermans went around in pairs, but now Shoreditch is all organic cafes, smart bars and fashionable clubs. When I used to live in East London the only clubs were the things the muggers used to threaten you with. Saf is an exemplar of the change of scene, a very smart dining room with the kitchen open to view, full of fashionable (mostly female this evening) diners who looked more likely to work in TV production than the rag trade that used to be the main business around here. I am deeply suspicious of specialist vegetarian restaurants, which can often be tiresome as well as wholesome. I am reminded of the classic Simpsons episode when Lisa is trying to impress an environmental activist by explaining she is vegetarian. "Hah", he sneers: "I'm a ninth level vegan; I don't eat anything that casts a shadow". Saf almost entirely avoids such politically correct one-upmanship and produced a series of thoughtful, well executed dishes which had familiar names ("ravioli", "cheese") but substituted raw vegetable ingredients for the normal constituents. What could so easily have been an abomination in fact was far from it. The dishes were prettily laid out, the taste combinations working well. It was actually hard to find much to criticise in the design and execution of the dishes that I tried. Even the wine list was good.
I think the best dish that the
Brilliant
makes, on its day, is the tandoori quail; the quail this week was beautifully cooked, the marinade of spices working well with the rich taste of the quail, the tandoor cooking giving a hint of smokiness: superb. The old favourites were as good as ever (methi chicken, romali roti) but the quail is worth the journey alone. It is interesting that, despite the economy, business at the Brilliant has been up consistently 30% in the last six months; it was packed out even on a Sunday night. Being featured on the Gordon Ramsay cook-along programme on Channel 4 undoubtedly helped, but the customers just keep coming back, myself included.
I am so pleased to have a serious gastropub in West London in the form of the
Harwood Arms
. A "game tea", basically a consommé of game, had real depth of flavour, served a fine with home-made sausage roll. Stuffed leg of chicken featured Brussel tops (just at the end of their season, and with excellent flavour), and finally rhubarb beignets were a lovely way to finish a meal.
One place that seems impervious to change is
Diwana Bhel Poori
(pictured), who continue to produce tasty south Indian snacks at bargain prices - £3.60 a starter actually reflects quite a price rise in recent years. The samosas are very good here, with a generous, spicy vegetable filling and a little spicy tomato sauce. Bhel poori is better than in much grander restaurants, avoiding dryness of taste through a generous serving of tangy, spicy tamarind sauce with the crispy elements of the dish. We still barely managed to spend £10 a head.
I had another enjoyable meal at
Cambio de Tercio
. The highlight for me was a dish of ballotine of foie gras, steeped in wine, served with quince jelly, walnut powder and a little Pedro Ximines sherry. The foie gras was particularly smooth in texture and had lovely taste, the accompaniments each having something to offer. A simple dish of sardines on toast with a tomato relish was also excellent, as was a dish of pork wrapped in black pudding. This is another restaurant that is defying the economic times, completely packed on this mid-week evening.
In other news, Gordon Ramsay Holdings continues to sell off its foreign restaurants while retaining the Ramsay name above the door via consultancy agreements. Following Prague (which received a Michelin star this week, taking his notional star tally to 13) and New York, the
latest
is Paris. This franchise model is the approach that was initially taken by Ramsay in Tokyo and Dubai, before the boom times led them to move to an own rather than franchise strategy. This works well in prosperous times but also exposes the company to much more risk in hard times, so the move back to a franchise model makes sense if you feel that the market is going to remain tough for years to come. I am not quite clear why anyone turning up to a Gordon Ramsay restaurant would be under the impression that Gordon is cooking there; you are buying a brand, and each place stands on the merits or otherwise of the team in each individual kitchen, such as the talented Jason Atherton at Maze.
No restaurant was elevated to three stars in the "Michelin Main Cities of Europe" guide, which covers Scandinavia and Eastern Europe (as well as reproducing some of the country guide material). However a second star was given to Mathias Dahlgren's Matsalen at the Grand Hotel in Stockholm, and Bagatelle, in Oslo. Scandinavia is developing quite a cluster of serious restaurants lately. Existing two star places are Chez Dominique in Helsinki, Edsbacka Krog in Stockholm and of course Noma in Copenhagen. One star beneficiaries were the restaurants Herman and Kokkeriet in Copenhagen, as well as Frantzen/Lindeberg and Mathias Dahlgren-Matbaren in Stockholm. This is the last of the 2009 Michelin guides.
My wife's
prediction
that the illnesses at the Fat Duck was caused by "winter vomiting disease" (norvirus - pictured) was proved
correct
this week, when the final tests came back. This shows that the illnesses were nothing whatever to do with poor hygiene at the restaurant or a problem with food poisoning, just a bit of bad luck involving a very infectious airborne bug. I suspect that this happens regularly in restaurants during the winter, but Heston's restaurant is so high profile that when a few customers were ill at the same time the publicity ensured it rapidly became a media bandwagon.