Some Unlikely London Restaurant Locations
Saturday, January 30th , 2016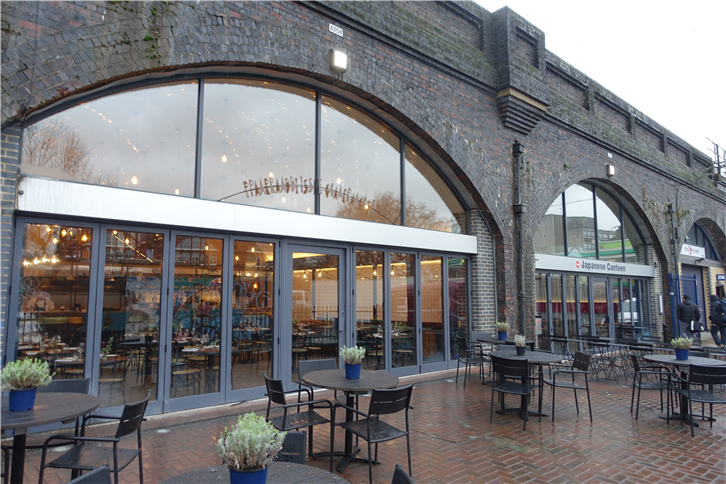 Piquet is located just north of Oxford Street, with a chef who was once head chef at Orrery. It has a large basement dining room and ground floor bar, and the menu had plenty of dishes that you might actually want to eat. A little onion tart nibble was very good, as was a rhubarb tart for dessert, so the kitchen seems to be able to produce good pastry. Other dishes were pleasant though there were also some minor issues that could be tweaked. The sourdough bread was bought-in and particularly unimpressive, but this is a detail that can be fixed. I suspect that as the kitchen settles in and irons out a few niggles that it will become quite impressive.
Belle Epoque is a fine dining restaurant in the unlikely location of the Sofitel at Terminal 5 of Heathrow. With 3 AA rosettes to its name (roughly the equivalent of one Michelin star in AA terms) it is clearly aiming for something more than just serving burgers to tired travellers. The dishes that we tried were indeed quite intricate, possibly too much so in places, but the kitchen is certainly trying hard and showed plenty of technical skill. The main limitation is that they need to use the same suppliers as the rest of the Sofitel group, and this distinctly limits the product quality that they have access to. An example was a scallop dish with celeriac and pork belly, whose scallops were cooked correctly but were clearly frozen and lacked flavour. Similarly a turbot dish would have been very good if it had featured a high-grade chunk of turbot from a large fish (the bigger the turbot, the better the flavour), but instead used a much cheaper small whole turbot that did not taste of much.
Paradise Garage is situated not on a tropical island but under a railway arch in Bethnal Green. It is the sister to Dairy in Clapham, and serves trendy "small plates" with frequently exotic ingredient combinations targeted at the local hipsters. I really liked the sourdough bread, made from scratch in the kitchen, and the house-made salami, though the salad dishes that I tried were less impressive. It ticks all the fashionable boxes with some natural wines and desserts with ingredient combinations that only a masochist could love. Given that there is some ability here in the kitchen I just wish there were more dishes on the menu that were appealing to those without beards and vintage spectacles.