A jaunt to Paris
Saturday, January 14th , 2012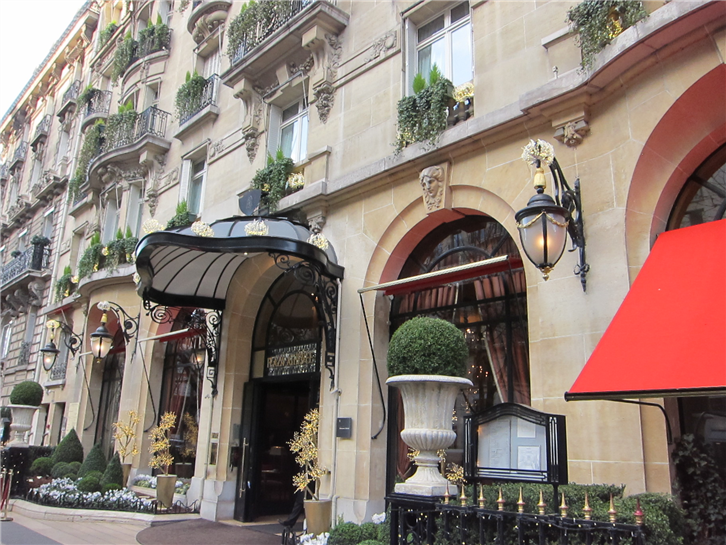 Having recently reviewed restaurants called 35 and 36, it seemed only right to try 34, the latest Caprice Holdings (Scotts, The Ivy, J. Sheekey etc) venture. 34 majors on beef, but there is plenty of less meaty fare on the appealing menu. The room is attractively set out, and as with its sister restaurants, 34 has a menu full of things that you might actually want to eat, and has very professional service. It was already doing a roaring trade, just weeks after opening. Our food was competently cooked and pleasant to eat, but at £120 a head the bill seemed to me just too high for what was being delivered. If you want a smart steak place then you would do better at Goodman or Cut (Hawksmoor is also good at a lower price point), and if you are really into beef then you will do better trying one of the highly aged beef dishes at Hedone. There is clearly a market for a restaurant like this, serving affluent diners who want a pleasant experience with familiar food. Just bring your biggest credit card.

The Royal China raised the game for Chinese food in London, offering a standard of cooking a distinct notch above that of Chinatown. Service was always pretty perfunctory, but this bustling place served up genuinely good food, whether in the evening or its dim sum at lunch. Its décor never changed, even after a much-needed expansion, so I was intrigued as to what it would look like after its multi-month refurbishment. The answer was like one of those "spot the difference" competitions. The bar area is a bit smarter, and the partitions between table sections have been removed, presumably to squeeze a few more tables in. However the trademark black lacquer with gold decoration has been replaced with more black lacquer with gold decoration. Anyway, after this anti-climax the food was fortunately similarly untouched. The gai lan with garlic here is pretty hard to fault, while scallops are cooking more accurately than in plenty of French restaurants. Long may it continue.

The Duke of Sussex is a simple gastropub local to me, serving a mix of Spanish food and pub fare. The cooking is hearty, the prices low, and I have a soft spot for the place. Paella, served in a cast iron pan, is always good here. I also enjoyed an excellent game pie, made from scratch and with a rich filling based on venison and wild boar. Chips were pretty ordinary, but this is clearly the best pub food in the area.

It is ages since I have been to Alain Ducasse's flagship restaurant at the Plaza Athenee hotel in Paris (pictured), now with chef Christophe Saintagne in charge of the kitchen brigade, and with a refurbished dining room. The room is much improved and the cooking style has also changed. While still very much classical cooking, dishes have been stripped back to the minimum number of components, with less garnishes than there used to be. A simpler cooking style relies on high quality ingredients and consistent execution, but fortunately there is no problem in either regard. Ingredients are impeccable, as shown by the dazzling scallops and fine lobster from Brittany. The cooking technique was flawless throughout, culiminating in some dazzling desserts. Such a posh meal in Paris comes with a matching price tag, but although this was very expensive indeed, it was also a superb experience.