A trip to Dublin
Tuesday, May 01st , 2012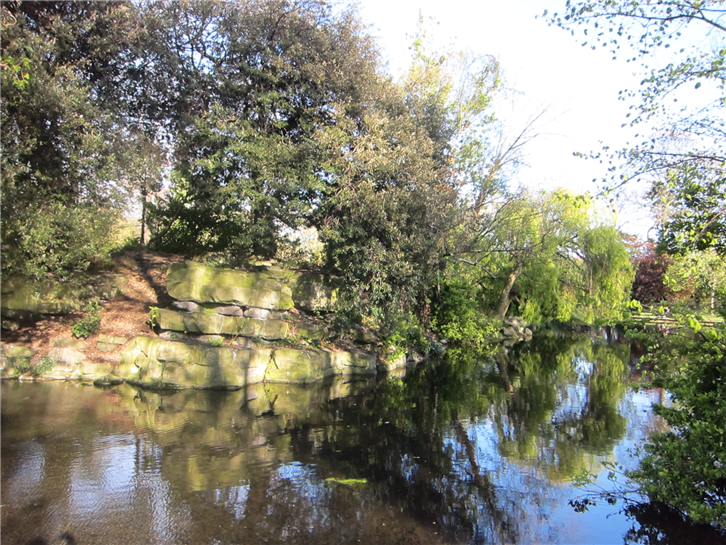 On a brief visit to Dublin I was able to try three of its four Michelin-starred restaurants, and to try a place that seems likely to join this select crowd. It was my first time to Dublin for over two decades, and it has certainly changed over the years. I would suggest staying somewhere more central than where I ended up, at a good hotel called the Gibson that was out in the former Docklands area. Like the London Docklands, this area has been rejuvenated, but only in parts, and although the hotel itself was excellent it was the sort of area where the Dobermans went around in pairs. The heart of the city is around a little park called St Stephens Green (pictured), which is a nice spot to stroll around and is near most of the attractions.

Ecrivain was doing good business on a Monday night, and was enjoyable but for me fell into the trap of trying to put too many garnishes on the plate. If you eat in Eugenie Les Bains you can enjoy three-star cooking with just two or three elements to a dish, yet Michel Guerard has held three Michelin stars for well over three decades withuot seeing the need to crowd his plates with extra elements. Dishes with numerous components stress a kitchen and make it difficult to execute all the components well, and this happened once or twice at Ecrivain. With that caveat, it was a good meal and an enjoyable place to visit.

Thorntons is a more formal restaurant overlooking St Stephens' Green in the heart of Dublin. The a la carte menu is classical, but the chef also produced a couple of much more modern style amuse-bouches. The cooking felt on sounder ground when it stuck to the classics, and I enjoyed a lovely langoustine dish with summer truffles. Its modern dishes worked less well for me, and it seems to me a little risky to mix styles so much within the same meal: certainly the restaurant was quiet, with just five diners, admittedly on a Tuesday night. However I felt that the meal overall was in solid one star territory.

I was very impressed with a new restaurant called The Greenhouse, with a Finnish chef who had created a good reputation in the culinary community when at his previous venue in the Irish countryside. I just tried the cheap lunch option, which in many London restaurants is a cynical affair, but here featured three good amuse bouches and petit fours, as well as three excellent dishes. The foie gras dish in particular was strikingly good, and I am sure this restaurant will prosper.

The best meal of the trip, albeit at a much higher price, was at two star Patrick Guilbaud. This restaurant has an airy dining room with a sense of space. I went for the full tasting menu and encountered some excellent dishes during my meal. Ingredients were of high quality and the technique in the kitchen was hard to fault. For me this was a strong two star restaurant.

This week saw the publication of the St Pellegrino Top 50 restaurant awards, a supremely well marketed event. This gets people talking about restaurants, which is a good thing, and chefs love it since it boosts revenues, but it is important to remember that it is just a clever piece of PR, not an objective listing of the world's best restaurants, in exact order. Such precision seems to me entirely impossible even with a perfect system, which is why the broader Michelin star categories seem a better idea. Of course we all have our individual favourite places, but that is the point: no one can objectively say that Arpege is better than Alinea, say, or indeed vice versa – they are both fine restaurants with differing styles. You may prefer one to the other, and so might I, but there is no objective measure – restaurant criticism is not a science. Beyond this it is tempting to point out the obvious daftness: Japan has just two entries in the list, the same as those well-known centres of culinary excellence, Austria and Dubai. Nice place though it is, does anyone really think Dinner is objectively the best restaurant in the UK, or that the bistro Le Chateaubriand is better than, say, Louis XV or Ledoyen, which are not even listed? Just 35 of the top 100 have three Michelin stars, meaning that many world class restaurants are not even listed. It is good that the list brings attention to areas not covered by Michelin, but even there the list seems flawed to me. Bhukara is far from being the best restaurant in India, nor is Iggys the best in Singapore, while the superb Robuchon Galera in Macau languishes well beneath Caprice, and even Bo Innovation in China, while Made in China in Beijing does not even appear. It is best not to dwell on such absurdities, and just recognise that the list is what it is: a good piece of PR for the restaurant industry.

The blog will resume on Sunday rather than its usual Saturday, as I have some more travelling to do. For the next few days I will mostly be eating Italian food.