Hache offers a superior burger
Saturday, January 09th , 2010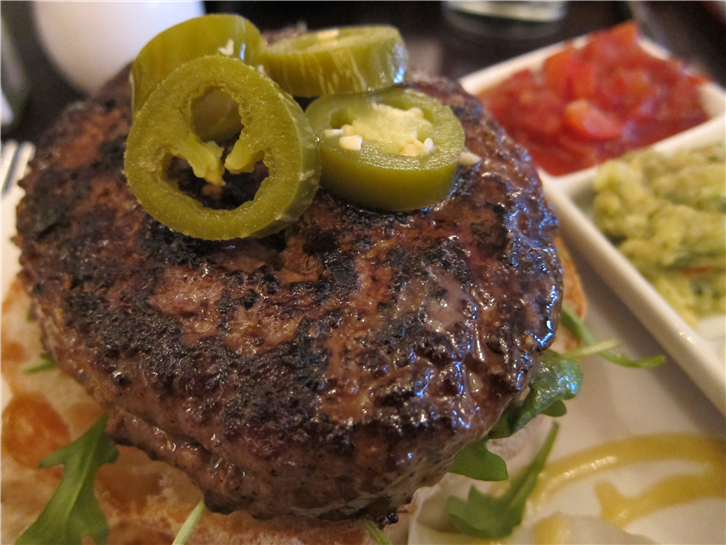 The Swan is yet another pleasant gastropub in the Chiswick area, which over the last few years has seen a clutch opening (The Duke of Sussex, The Devonshire and The Roebuck, for example). The Swan's follows the sensible formula of classic pub dishes, tolerable prices, and generally managed to execute them well (there was a technical problem with just one of the dishes tried). Service was very basic, but prices were acceptable.
Kiasu has established itself as one of the best places in London to eat Straits cuisine, that blend of Chinese and Malaysian food that can be found in Singapore. It is a cooking style that freely adopts ideas from a variety of influences, an example being a starter of "pratha" which is the Indian fried bread paratha, in this case served with a spicy sambal sauce to dip. What is impressive is the execution: the paratha here is light, entirely non-greasy and yet not too dry – indeed it would put almost any Indian restaurant to shame. Malaysian dishes such as mee goreng noodles are faithfully produced. Not everything is equally successful e.g. a soft shell crab dish with chilli had a tomato-based spicy sauce that rather obscured the taste of the crab, though even this was still a pleasant dish. The menu is keenly priced, with more food than we could finish for £17 per person.
Given just how popular burgers are, it is surprising how difficult it is to get a decent one. Of course you don't expect too much from Burger King and the like, but in recent years that have been a number of attempts to produce something of higher quality. I was unimpressed with Ground when I tried it (our local branch has since folded) and while Gourmet Burger Kitchen is decent it is hardly something to get the pulse racing. Consequently I was interested to try Hache, who being a family-run place with two branches, rather than a big commercial chain, sounded more promising. The meat itself (pictured) was indeed of a superior quality to the chains, as were the chips, though I didn't think much of the bun that came with the burger. It was a long way from the burger of my dreams, but certainly very pleasant, if hardly cheap.
Wine enthusiasts may be interested that the impressive Kitchen W8, which I reviewed recently, currently allows you to bring your own wines along on Sunday evenings at no corkage. This is a fine idea which I hope they make a permanent feature, and which other restaurants could well consider.