Gauthier moves to Soho
Saturday, May 29th , 2010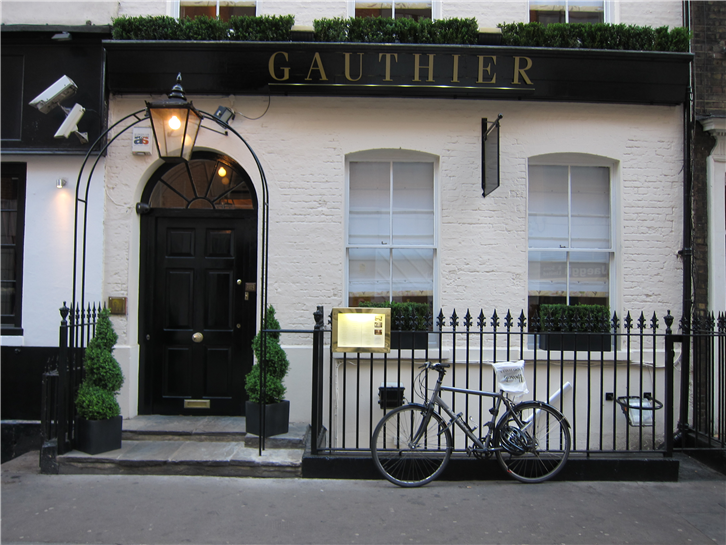 Alexis Gauthier has finally left Roussillon and struck out on his own, taking over the Lindsay House premises. Although it was just days after opening, there were only a few teething troubles, and the kitchen brigade (many of the staff have followed Alexis from Roussillon) turned out a very fine meal indeed. The star of the show was a magnificent spring truffle risotto, and I was really pleased to see that they make the bread from scratch: a wide selection of lovely rolls. The pricing, at least at present, is very fair indeed. You could have three courses for £27, and will also get nibbles, an amuse-bouche and pre-dessert for this. The wine list is less generous, but even so this seems to me a bargain at present. The town house layout will not be to everyone's taste, and all those stairs must make things tough on the staff, but I really enjoyed my meal and will be pleased to return. Visit before the prices go up. The identity of the new chef at Roussillon is not public knowledge, but i will revisit in due course when the new team has settled in.
The kitchen of Caravan is headed up by the ex head chef of Providores, and the same Antipodean fusion theme continues. The dishes generally have a light, clean feel to them, such as peppered tuna salad with a ginger vinaigrette and broad beans, and service was friendly. The trendy Exmouth market location certainly brings in the punters, and although we were eating late (around 10 p.m.) every table was full, with a young, buzzy crowd. This was a very pleasant meal.
This was more than could be said for Jom Makan, a Malaysian café just off Trafalgar Square. There were some culinary horrors on display when we visited, such as a salmon dish that was so overcooked its texture had become almost like cardboard. Other dishes were better, but generally of low quality, the only real success being an entirely respectable beef rendang. I'll stick to Kiasu in the future.
Shilpa is one of the clutch of Indian restaurants in Hammersmith, most of which are sadly to be avoided. Shilpa serves south Indian food, and has some interesting dishes, such as sea bass in spices served in a banana leaf. Paratha is well-made here, and although it is not a destination restaurant it is a notch above most of the places in the local area.
Cut from a finer cloth altogether is Tangawizi, despite its basic décor and location on the wrong side of Richmond Bridge. With its pair of talented chefs (one from the late lamented Yatra, one from Bhukara in Delhi) the kitchen here produces perhaps the best Indian food in London at the moment. This week I enjoyed a variant on chicken tikka, flavoured with cardamom seeds served with mint chutney to provide a little moisture, and salad leaves; this was a lovely dish, pretty to look at and with superbly flavoured chicken, with just the right amount of cardamom flavour imparted from the marinade. Other strengths here are the magnificent kidney bean dhal and the lovely, soft naan bread.
Kitchen W8 delivered another reliable meal with a new menu for the summer. I particularly enjoyed salmon rilette with watercress cream and minted Jersey Royal, refreshing and well balanced. This restaurant recently won "Best Newcomer" at the Tatler awards, and that seems thoroughly deserved to me. It has become one of my regular haunts.
I was quoted in a feature on the world's best restaurants in the Indian Economic Times last week.