Back in London
Saturday, September 08th , 2018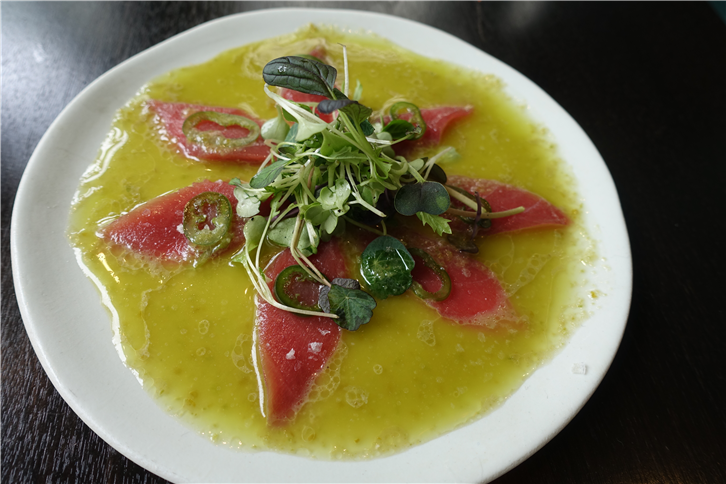 Titu is a curiosity, a tiny place in Shepherds Market selling mainly gyoza, the Japanese fried noodles. The chef has a proper track record and the menu stretches beyond gyoza, such as sashimi tuna with jalapeno (pictured) so this is not a one trick pony. The food was good, and the only caveat was the bill, which was firmly in Mayfair territory.
Brat is about as hipster as things get. Here you have a young chef striking out on his own from a wildly successful former restaurant, cooking in an open kitchen with an emphasis on charcoal grilling. There is even a small plates menu and plenty of people with tattoos to go with the tiny, packed in tables. Fortunately the cooking is good enough to handle all this baggage, and we had a nice evening, though it was not a cheap experience by any means. The whole turbot (1.5 kg fish for a fair £75 given that it retails at about £40) was a nod to the great charcoal-grilled turbot to be eaten in Getaria in Spain, at both Elkano and Kaia Kaipe.
I have had many excellent meals at Tangawizi, which is just over the far side of the Richmond Bridge. I am not sure if there has been a chef change or whether they were having a very bad night, but things were a couple of notches below the standard that I have been used to here. This was still a decent meal, but dish after dish had slipped in standard from the restaurant at its best, which was a real shame.
Pure Indian Cooking is a family-run restaurant in Fulham, with a menu that was more ambitious than most neighbourhood places, with exotica such as venison masala. It had some enjoyable dishes such as a chaat involving patra, though there was a bit of inconsistency. Still, it was not expensive and is well worth a look if you are in the area.
I also had another lovely meal at The Ritz, though as this was dinner catching up with some old friends from abroad, and because I have recently reviewed it several times, I haven't written this particular one up. Suffice it to say that the team was on good form again, with classic dishes such as the coronation chicken nibbles and top quality langoustines, as well as classy grouse tonight.