Atelier Robuchon hits London.
Saturday, September 30th , 2006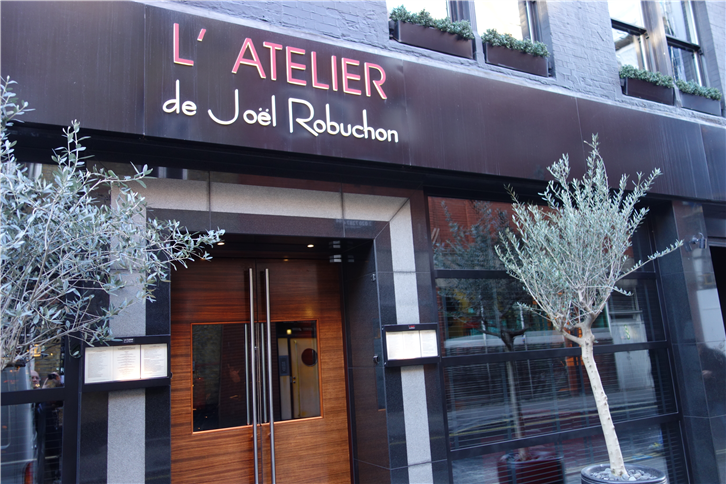 I finally got into Atelier Robuchon in West Street, essentially next door to the Ivy. It is modelled on the style of Atelier Robuchon in Paris, and has the same tapas format. However as well as bar stools there are some tables, also with bar stools rather than conventional chairs. Décor may seem 1980s but the black lacquer and red velvet lend the place a quite romantic feel as far as I was concerned. I see from an interview with Joel Robuchon that they aim for an "intimate" feel, though tightly packed might be a less charitable view of the table spacing. The upstairs bar has décor in keeping with the dining rooms and they make a good cocktail. The menu offers either a conventional a la carte or a long selection of tasting dishes, roughly half size. The cooking varied from good to excellent, the latter end being illustrated by a single fried, very delicate langoustine with a smear of pesto sauce. Mackerel tart was another winner, as was a playful miniature beefburger using steak and foie gras. However other dishes, such as a simple dish of tuna with tomato, were nice but the ingredients were nothing remarkable and so came across as merely pleasant. The standard overall was 16/20, with dishes varying from 15/20 to 17/20 i.e. around one Michelin star overall. Given that chef Frederique Simonin gained two stars for his Table de Joel Robuchon in Paris this is a slight disappointment, the more so when you consider that the bill came to 120 pounds a head, and this is not with flashy wines. Moreover the service was really inept albeit friendly, with the wrong dishes being put in front of us in every course we had. Not a huge problem in itself, but this is simple stuff, and not what you expect at these prices. Certainly the food experience was some way below the Paris Atelier, and although I imagine that they will sort the service problems out in time, the value for money question will remain. Maze, for example, offers similar cooking in both style and standard at a lower price, and without bumbling waiters.
I was prompted to revisit Mehek, which to my surprise was one of two London award winners at the British Curry Awards last week. Near Moorgate tube, Mehek is a fairly smart place but offering a generally very familiar menu e.g., chicken dhansak and the like. Apparently more exotic dishes do not go down well with the city clientele. On the positive side service was extremely friendly, and the manager very attentive and generous. The dishes themselves varied from quite decent e.g. pleasant if salty fish tikka and a very good bhindi, through to plain poor e.g. a tasteless, watery dhal. Overall it was around 10/20 standard, a little less good than I recall on my own prior visit in 2004. Why on earth this essentially decent, slightly above average curry house should be singled out as one of the best in London, though, remains a mystery that only the judges of the British Curry Awards can explain.