A week in Mumbai
Sunday, January 24th , 2010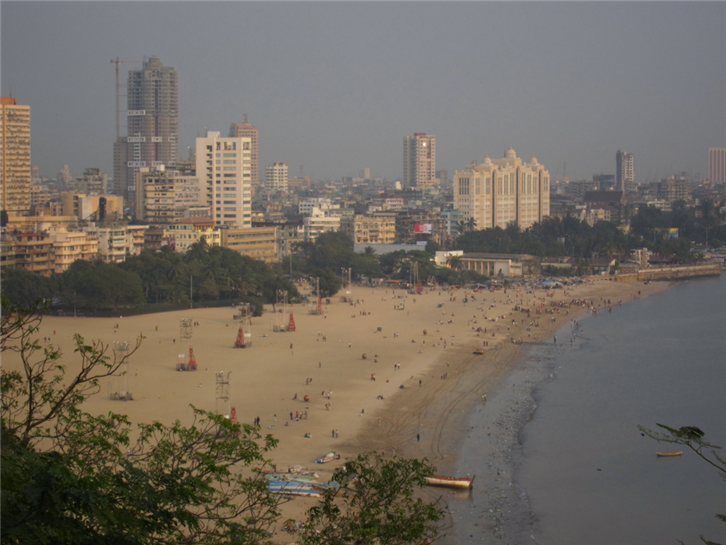 Mumbai is more a business centre than a tourist destination. It does have some very fine buildings (pictured) but it is a town of 20 million people with a king-sized traffic problem. One evening journey to a restaurant of about four miles took over an hour and a half, to give you a sense of just how bad. I had always assumed that Bangkok and Manila vied for the crown of world's worst traffic, but I think Mumbai could give them a run for their money. From a food perspective, there is an active restaurant scene. I restricted myself to Indian places, since I see little point in flying several thousand miles to India and then eating Chinese or Italian food, though there are plenty of such choices available.
We stayed at the Leela, partly because I am a big fan of the Leela in Goa. The hotel was superb, and we had a pleasant meal at the Jamavar restaurant there (though this restaurant was not a patch on the one of the same name in Goa). It is an oasis of calm amongst the bustle, though it is out of the main bit of Mumbai, so not the place to stay if you want to be right in the middle of the Marine Drive sights. We found the rooms, facilities and staff to be excellent, and would happily recommend it to anyone wanting a place to stay out of the main part of town.
I was surprised at how many published reviews concentrated on the restaurants of one hotel, the ITC Maratha (Sheraton). This has no less than three Indian restaurants, each cooking a quite different style of Indian cuisine, and in fact we found all three to be very impressive. Peshawari is a copy of the Bhukara in Delhi, and I actually preferred it. Maybe I had a bad night at Bhukara some years ago, but for me Peshawari delivered what I hoped that Bhukara would, a high class taste of the tandoori cooking from the Punjab. Dakshin concentrates on South Indian food, and does so very effectively, while Dum Pukht deals with the dum style of cooking slow cooking in a sealed pot. All three were better than any Indian restaurant in the UK, in my view.
Khyber pops up on most "top 10" lists for the city, and was pleasant enough, though when we went it seemed full of business people, which indeed was a recurring theme (less of a surprise in the hotel restaurants). It was pleasant and quite fairly priced, but not a patch on the trio of restaurants at the ITC hotel.
Trishna gets a lot of media attention, but the meal we had was disappointing. Perhaps it is better at its original site, but this was actually the worst meal we had all week; even their signature crab dish was unappealing, albeit with very fresh crab.