A Crowning Achievment
Saturday, April 18th , 2015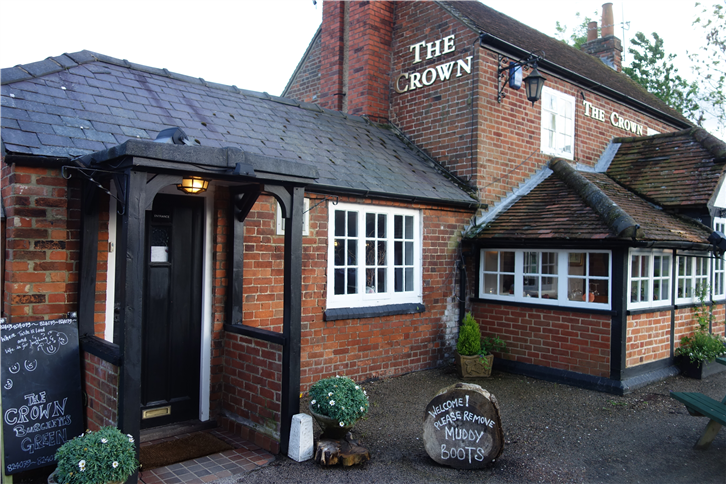 Engawa serves Kobe beef, which until late 2014 was not possible to get in the UK. The dining room is smart and the service friendly, but this place will be measured by its beef, and to be honest it was nothing to write home about. It did not help that they ran out of the cut that I had ordered and served chuck steak instead, but this was not the only issue. Beef from Japan that we find here has been vacuum packed and sometimes frozen, and this affects its texture. Hence although the meat itself started off as very high quality, eating it here is not the same experience as devouring it in Tokyo or Kobe.
The Crown at Burchetts Green (near Maidenhead, pictured) has until recently been a one-man operation, with chef Simon Bonwick producing high quality British food from his tiny kitchen. It is a family affair, with at least one of his children working as a waiter, and the place is simple and friendly. A monkfish dish was particularly impressive, and the chips were some of the best I can recall. The food was actually better at this visit than my first time here, and I have nudged up the score by a point to reflect this. It is just the kind of place you would like to have at the end of your road.
It is good to see The Quality Chop House revived and prospering under its new owners. The short seasonal menu is fairly priced, and the wine list in particular is a delight, with some extremely good value bottles at the high end of the list, and how often does this happen in London? A pork terrine was good as indeed was pork loin, though the dessert at this visit was flawed. Still this is a good spot to eat if you are seeing a show at nearby Sadlers Wells, and in particular if you are a wine lover.
Patara is a mini-chain of smart Thai restaurants in London and abroad. The Thai food is about as good as London has to offer (though for authenticity it is hard to beat The Heron). The service at the visit was unusually off key but the classic dishes such as tom yum goong and pad Thai were as reliable as ever. Ever since The wonderful Thailand in New Cross closed I have been in search of genuinely top quality Thai food in London but I have yet to find any. The nearest I am aware of is the terrific Kiin Kiin in Copenhagen, which is of course a little off the tube map.
Parlour is a regular haunt of mine, with its talented chef Jesse Dunford Wood cooking excellent value retro British dishes such as chicken Kiev and Arctic roll. He also runs a "kitchen table" experience, a table next to the kitchen where he delivers a surprise menu along with plenty of wit and a little theatre. I wrote about this experience at a previous visit. It is great fun and well worth it if you can get a small group together.