Michelin starred dining in London
Saturday, July 25th , 2009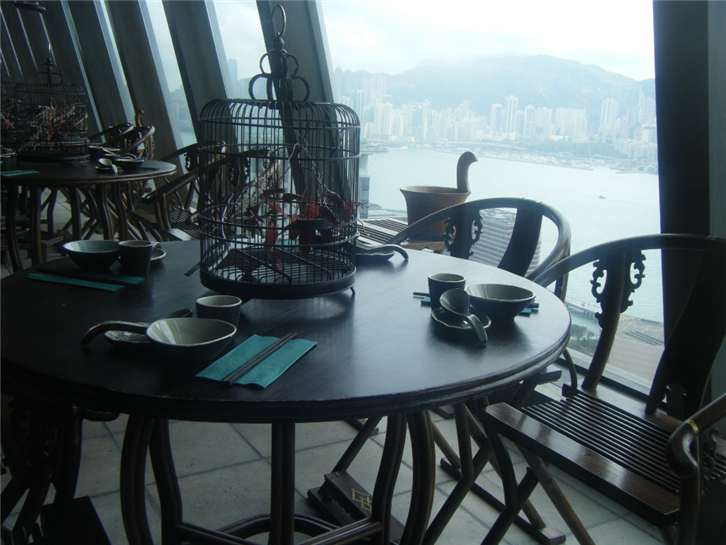 It is tempting having a Michelin-starred restaurant within a two minute walk of your house. La Trompette was on good form this week. It continues to fill its dining room despite the economy, by delivering appealing food of a high standard at fair prices. Fillet of mackerel was served with king prawn beignets, with a refreshing coriander, soy and sesame dressing and avocado puree; this was a well-balanced dish, the natural oiliness of the mackerel balanced by the acidity of the oriental dressing (6/10). Fillet of beef was roasted and served with tasty fondant potato, a classic béarnaise sauce, cooking juices flavoured with red wine, spinach and a field mushroom gratin. The beef was of good quality, the sauce made from the cooking juices nicely concentrated, the stock used to flavour the fondant potato (6/10). For dessert, rum baba was carefully made. This is not an easy dish to make, it being very easy to dry out, but here the base was moist, served with cream and not too much rum on a bed of slices of strawberries (6/10). Service was friendly and efficient. £37.50 for three courses, combined with one of the better wine lists in London, is fair value for this level of cooking.
Zafferano changes its menu regularly in line with the seasons. This week I tried a couple of new dishes, a summer vegetable salad and pasta arrabiata. To me these simple dishes are what Zafferano does best, showing off high quality produce, much of which is imported from the markets of Italy. The vegetables tasted excellent, the leaves dressed with a simple vinaigrette. The pasta was tender and the tomato sauce with it had real flavour; personally I would have been happier with a bit more spicy chilli bite, but I guess the kitchen doesn't want to scare the American expats that constitute much of its audience. Service was spot on this evening.
The Square continued its good recent form. Saute of Scottish langoustine tails with Parmesan gnocchi and an emulsion of potato and truffle is a dish I have written about previously and is a very accomplished one. Breast of Goosenargh duck with tarte fine of peach and red onion confit was well balanced, the acidity of the peach, even when cooked, balancing the inherent richness of the duck. The duck itself was carefully cooked. Compote of cherries with beignets was very enjoyable, with particularly good beignets, an element that the Square has always excelled at.
In other news, the Caterer reports that John Campbell is to leave the two- star Vineyard to be part of the team running a new hotel country house called Coworth Park. The recession appears not to have put off the owners of the spectacularly situated Hutong (illustrated) in Hong Kong, who are opening twin restaurants in London this autumn in Regent Street (on the top floor of the old Dickens & Jones building). Oddly, neither will be Chinese: one will serve Japanese food, the other Spanish food. There may be a view, but it will not compare with Hong Kong harbour.
The head chef at Sketch, Pascal Sanchez, is moving on, to be replaced by Jean Denis Le Bras, who was previously the head chef of the less formal Sketch Gallery.