From Mayfair to Nine Elms
Saturday, September 07th , 2019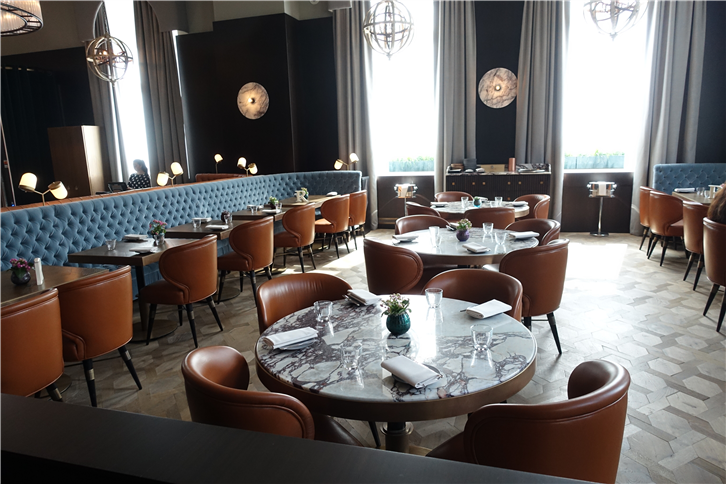 Wild Honey was a fixture of Mayfair for many years, but it eventually closed and has now been reborn in much smarter premises (pictured) in Pall Mall. Antony Demetre is a talented chef, and continues to produce original and well executed dishes. A caccio e pepe using exceptional quality pepper was a good example of this at my meal this week. I expect Wild Honey to prosper.
Darby's, in the shadow of the new American embassy in Nine Elms, has a fine setting and is also very smartly fitted out. The food was less consistent here, with a couple of enjoyable dishes but also with some less successful ones, and a recurrent problem of dishes arriving not quite hot. Still, the service was excellent and the menu interesting, and on a warm summer night like this one it was a pleasant enough place.
I had another excellent meal at Indian Accent, the sister of the restaurant in Delhi that is the only one in India to appear in the global "Top 50" restaurant list (which is really a top 100) at number 60 in the 2019 list. The London branch serves a very similar set of dishes to the Delhi branch and, on multiple visits to both, I would say that the standard is much the same. This is unsurprising given that the London kitchen is in the hands of a former head chef of the Delhi Indian Accent. This is definitely not traditional Indian cooking, with such exotica as blue cheese naan, but the modern dishes work really well. The little kulcha breads stuffed with either bacon or butter chicken are examples of really inspired creative cooking, and another is the superb soy keema with pau dish. The restaurant was still on excellent form, and the service was as slick as ever.
The Ritz is now my "go to" place for fine dining in London. I had another superb meal there this week, with fabulous langoustines and excellent scallop tartare, as well as the pressed duck. This dish, made famous at Tour d'Argent in Paris, is even better here due to the absolute top of the range duck used. Just a reminder: this has one star but the inferior Alain Ducasse at the Dorchester has three - sort it out Michelin.
The next blog will appear a little later than usual.