The Old and the New
Saturday, October 20th , 2018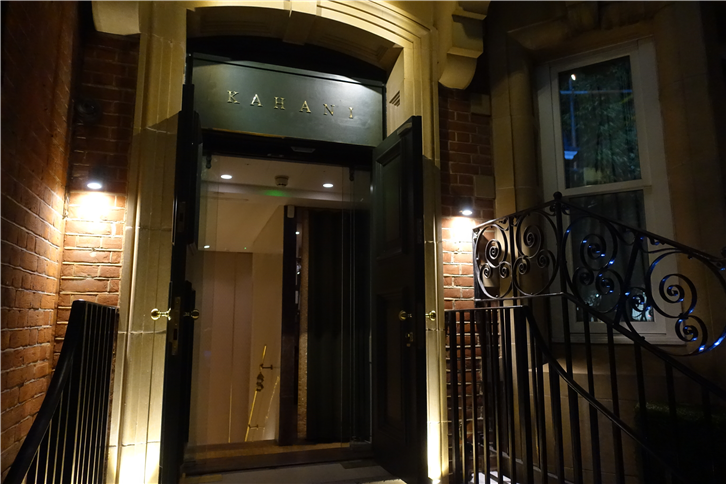 Kahani (pictured) is a new venture led by the former head chef of Tamarind, Peter Joseph. Tamarind, incidentally, was the first Indian restaurant to gain a Michelin star in the UK way back in 2001 when Atul Kocchar headed its kitchen. Peter Joseph worked at Tamarind for fourteen years and was head chef there since 2012. The food is a modern version of Indian cuisine, with dishes like guinea fowl tikka and golden beet cakes with mustard and poppadum crust. The dishes we tried were pretty good except for one side dish and some ordinary bread, but generally the food standard was quite high. The basement setting was well decorated but the waiter that we had was inexperienced, leading to some almost comical service moments, which is not what you expect for an £83 a head meal.
La Trompette was the restaurant that originally put Chiswick on the dining map, its first ever Michelin starred establishment, long before Hedone arrived. The formula at La Trompette is a tried and tested one: an appealing menu, friendly staff, capable cooking and a modestly priced wine list. It doesn't try for culinary fireworks but is usually reliable. I actually had two meals there in quick succession, and although there was a touch of inconsistency the food was pleasant and the welcome was warm.
Cambio de Tercio is an old favourite, a little corner of the Brompton Road that feels like a piece of Spain. The staff are Spanish, as are most of the customers, and it continues year after year to offer a charming experience. It lifts dishes from elsewhere, such as the modern patatas bravas that are perhaps its best-known dish, originally developed in Madrid by Sergio Arola but capably reproduced here. Slow-cooked tomatoes are another good dish here, and of course there is Iberico ham and a good selection of sherry, as well as a lengthy Spanish wine list. The place is always packed and it can get quite noisy, but the staff are charming.