From Hammersmith to Southwark
Saturday, November 23rd , 2019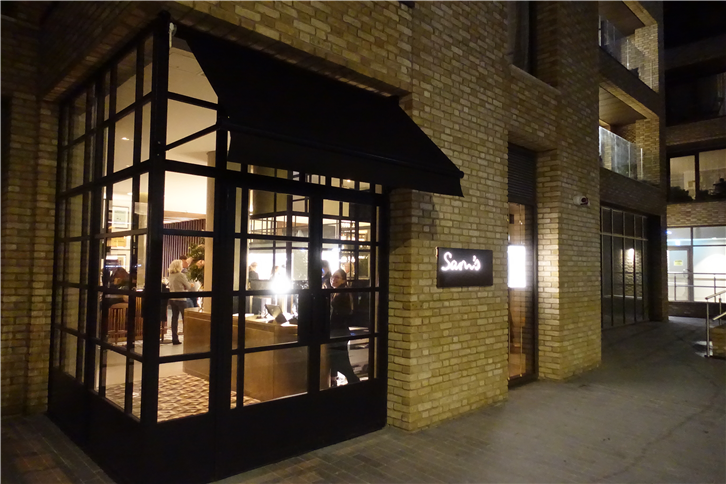 Sam's Riverside (pictured) is a large new restaurant next to The Riverside Studios in Hammersmith. This time restaurateur Sam Harrison has recruited a higher calibre chef than we he ran Sam's Brasserie in Chiswick, so while the formula is similar, the food is better. The restaurant is large and smart, with a genuine riverside setting, and the food is appealing and capably made. I predict that it will prosper.
Trivet is one of the most interesting London restaurant openings of the year, with former Fat Duck head chef Jonny Lake cooking in Southwark. A couple of the savoury dishes that we tried were superb, especially a sweetbread dish, but desserts were a let-down. That is a shame because the best dishes here are genuinely top notch.
I also had another lovely meal at l'Amorosa, where Andy Needham cooks the same high-class Italian food as he did at Zafferano when it had a Michelin star, but now in a neighbourhood setting. His pasta ragu and saffron risotto are things of beauty.
The Michelin Bangkok 2020 Guide (now covering Chiang Mai also) came out, with R. Haan and Sorn elevated to two stars. With Gaggan closing this leaves Thailand with no three-star places, 5 two stars (La Normandie, Mezzaluna, R. Haan, Sorn and Suhring) and 24 one stars. The Michelin Seoul 2020 Guide had no change at the three-star level, Mosu and Impression gaining two stars apiece and seven new one-star places. In all, Seoul now has a pair of three-star restaurants, 7 two stars and 22 one stars.The Michelin guide to Spain and Portugal was also released. A new three star in Santander - Cenador de Amos, as well as five new two stars. Spain now has 11 three star restaurnats, 36 two stars and 194 one stars.