Mennula reviewed and the Sportsman revisited
Saturday, February 27th , 2010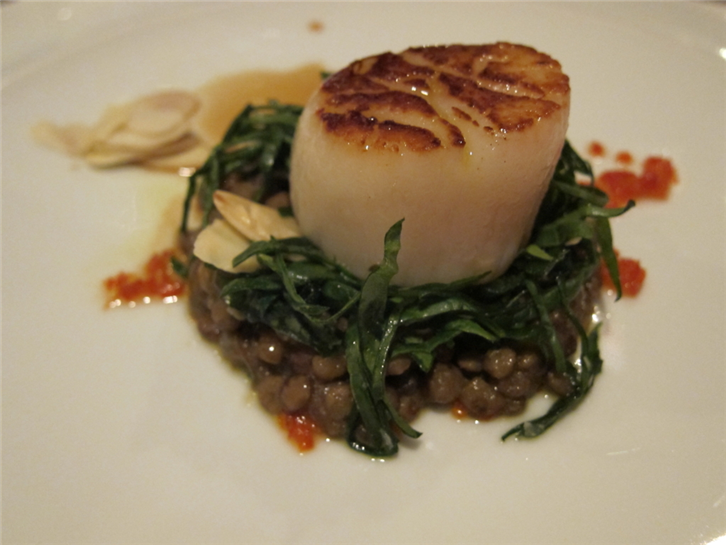 The Soho House group definitely know what it takes to produce a successful restaurant. I walk past the High Road House site most days, and it is full practically from breakfast through to closing time every day. This seems mostly due to a venue with attractive décor and capable waiting staff, since the food is merely decent (though consistent) and is quite expensive for what it is. With Pizza East Soho House seem to be almost showing off; it is as if someone made a bet with them to see whether they could really fill a large restaurant in an old warehouse in a grotty bit of East London, keeping a dismal entrance and barely putting a sign up outside. Well, they won the hypothetical bet, since the 160 cover venue was packed out on a Monday night, with a location and signage so obscure that my cab driver went past it twice without spotting the place at all. Again the waiters and reception staff we encountered were excellent, and just like the other venues the food itself was merely decent, at prices that are, well, quite expensive for what it is.
Mennula is the new venture on the site of the long-established but now defunct Passione. We were made to feel very welcome (the manager used to work at Zafferano, who know all about good service) and the menu is interesting, being dishes from the chef's native Sicily. There were some enjoyable things, such as excellent arancini to begin with, good scallops (pictured) and nice risotto, but there were also a couple of peculiar culinary slips; it may not entirely be a coincidence that the chef was off the night we visited. Some places have kitchen brigades so well-drilled that it scarcely matters if the head chef is there or not, but I suspect that is not the case here. I remember a conversation with Heinz Beck (of three Michelin star Pergola) who is famously workaholic, who told me he had not missed a service in seven years (when he is not there, the restaurant closes). In London the last time I recall that admirable philosophy was in the days of Pierre Koffmann at La Tante Claire. Such ups and downs would be more forgivable if the prices were low, but at Mennula they are not.
I just can't seem to stay away from the Sportsman for long these days, despite the epic journey needed to get there from west London. This time I went with my friend Mikael Jonsson, serious ingredients expert and author of the excellent Gastroville blog. I have written at some length about the food at the Sportsman, including a recent review, so I won't go over old ground here. However some smoked turbot roe was a new dish for me, and a most enjoyable one. The quality of the ingredients here puts almost all UK restaurants to shame. Even Mikael liked it, and he is not an easy man to please.
Kitchen W8 produced another good meal, though there were one or two minor inconsistencies this week compared to my previous visits (see the review for details). However the overall formula seems to be working well, with the restaurant very busy.
It s hard to visit another pizzeria when Franco Manca is on your doorstep (I went to their official launch party this week, though it has been up and running for a while). However I have a soft spot for Tarantella, a family-run restaurant with a nice combination of good pizza and genuinely welcoming staff. A sign of attention to detail was the upgrading of the salami on my pizza to a Calabrian supplier, and indeed this was a significant improvement.
In other news, an electrical short-circuit sadly caused a major fire at two-star Mugaritz in Spain, causing a great deal of damage; fortunately no one was hurt. It is unclear at this point when the restaurant will re-open, but from the pictures I have seen it will not be soon.