A Pub Jim, But Not As We Know it
Saturday, March 31st , 2018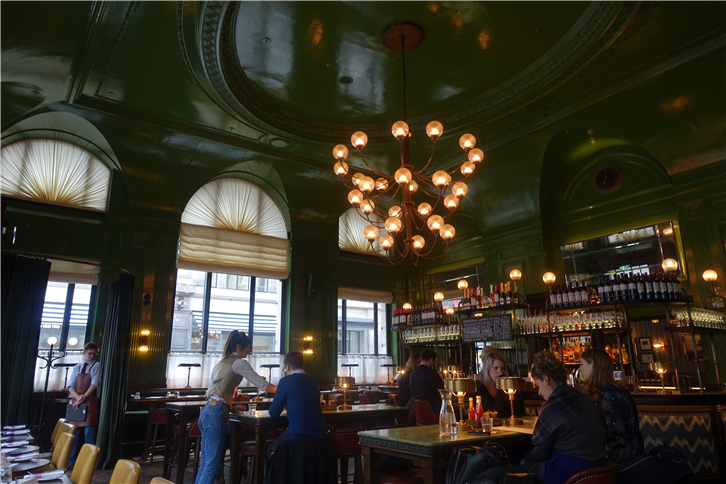 L'Amorosa has become my "go to" Italian restaurant in London. Its chef/owner, Andy Needham, was the long-time head chef of Zafferano when it held a Michelin star. Now he cooks slightly simpler dishes in this neighbourhood restaurant in Ravenscourt Park. A lamb ragu dish had great depth of flavour, while saffron risotto was also excellent. Prices are very fair here and the staff are friendly.
Berners Tavern is part of the Jason Atherton empire, possessing one of the most visually impressive dining rooms in London. The menu is appealing, with dishes such as tuna with avocado, chilli and yuzu and a crowd-pleasing venison Wellington. The bill is quite high, and that is the main issue here, but I guess someone has to pay the fee for architect Ian Schrager's genuinely gorgeous room.
The Wigmore looks like a Victorian pub but is actually part of The Langham hotel, located in what used to be the hotel spa. The food is definitely a step up from regular pub fare, with a toasted cheese sandwich using three different cheeses and arriving with a cast iron bacon press to keep it warm. I enjoyed a curried Scotch egg and coronation chicken roll, and over two further visits had several excellent dishes. The cooking takes pub classics and elevates them to a higher level - recommended.
Finally, I had another good meal at old faithful Royal China in Queensway. We had a particularly good steamed sea bass with black bean sauce at this visit, as well a excellent bak choi with garlic. Service here is never exactly cuddly, but the hordes of Chinese diners in this cavern of a dining room are a testament to the standard of the cooking.