A Frenchie in London
Saturday, February 20th , 2016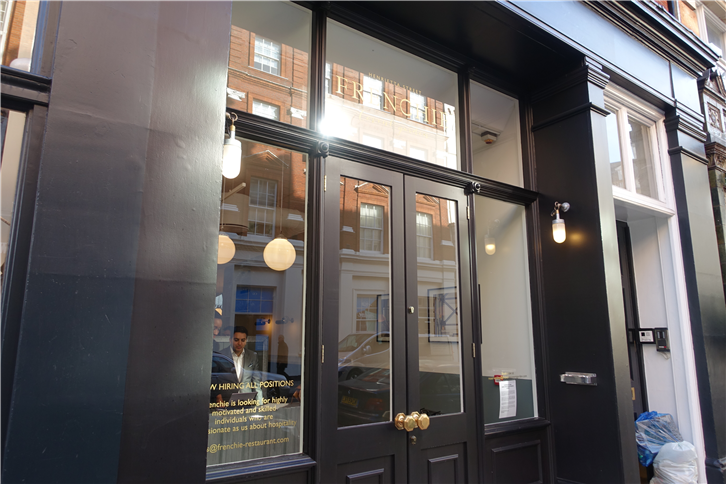 Duck & Rice is an Alan Yau venture located in what was the old Soho bar Endurance, serving dim sum and assorted popular Chinese dishes in a casual pub setting. It is located next to the original branch of Yauatcha, which Mr Yau set up many years ago before selling it on. It is tempting therefore to compare the dim sum here to its more up-market and ambitious neighbour. On a direct comparison the venison puff was definitely better at Yauatcha, though the Duck & Rice version was pleasant enough. However the har gau prawn dumplings were nearer in standard to the classy Yauatcha ones, and the Shanghai dumplings (xiao long bao) with their soup centre were excellent. I liked the Duck and Rice and would happily go back.
Hakkasan in Mayfair is another restaurant whose first incarnation was originally devised by the creative Alan Yau. What is particularly impressive about Hakkasan is the striking consistency of the cooking despite its vast scale and huge popularity. Even with literally many hundreds of covers a night, dish after dish is impeccable. The dim sum here is top notch, and on this visit we had a particularly good fried prawn with chilli dish, as well as delicate young gai lan with garlic. I have written before about the super-slick service here, which appears effortless despite the bustle all around as tables are turned. So often when a restaurant expands its branches they struggle to maintain standards, but Hakkasan somehow pulls it off without a hitch.
Frenchie is a restaurant in Paris run by Gregory Marchand, who picked up the "Frenchie" nickname when working at Fifteen in London. He has now opened this sister restaurant in Covent Garden on the old Porters site. The room is smart, the menu quite interesting. There are no luxury ingredients, but quite clever use of garnishes to enliven what they have. I particularly liked a cauliflower dish with quinoa and spices. A whiting and button mushroom main course was less interesting, though a rhubarb cheesecake was pleasant. Prices reflect the high rents in the area, and the wine list is not priced kindly, so the key for this restaurant will be whether the punters are comfortable paying this level of price for food using mostly cheap ingredients. There is some care in the cooking here lacking in many recent London openings, and I hope it does well.
L'Amorosa is a neighbourhood Italian restaurant near Ravenscourt Park run by Andy Needham, who for many years was the head chef of Michelin-starred Zafferano. Andy cooks in much the same way here as he did in Belgravia, using many of the same suppliers, though with a simpler menu and charging much lower prices. Pasta has always been his strength, and the crab linguine with a hint of chilli, an old Zafferano classic, was genuinely top class. Service here is friendly and the prices modest. It has become one of my regular haunts.
I also had a return visit to Villa Geggiano, the other good Italian restaurant in the Chiswick area. On this visit a tagliatelle with black truffles was very good indeed, having excellent, buttery pasta. A tuna tartare was pleasant too, though passion fruit cheesecake needed a lot more fruit. The food here is less consistent than at l'Amorosa, but it is a very pleasant spot; one minor quibble is that in the evening you will need a torch to read the menu unless you happen to be a cat or bird of prey. I have no idea why so many restaurants insist on lighting their dining rooms as if they are dungeons, but there we have it.
The blog next week will be a day later than usual.