A Mountainous Setting with Prices to Match
Saturday, April 01st , 2017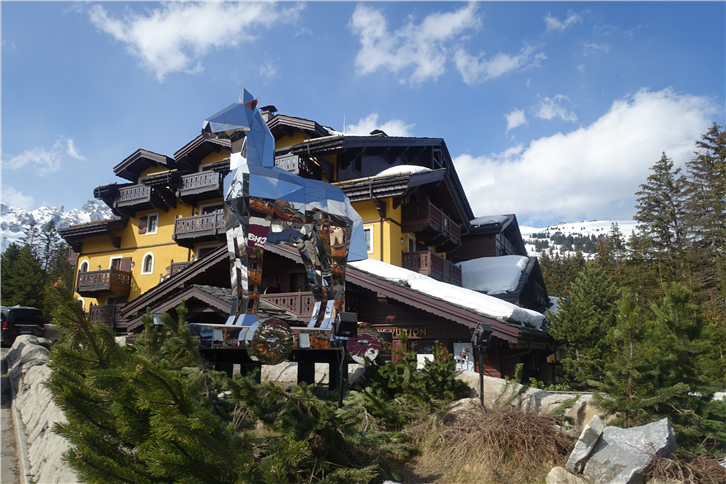 Parlour in Kensal Rise is one of my regular London destinations. A simple boozer but with talented chef Jesse Dunford-Wood, the retro British dishes are vastly better than you might expect in this unpromising location. At my latest visit the old favourites such as salmon smoked on the premises with home-made soda bread were as good as ever, as was superb chicken Kyiv with rosti and cabbage coleslaw. The dish of the night was foie gras profiteroles, showing glorious richness. Not everything is quite to the same standard here: beetroot with beef tartare was decent, and desserts are never the best course here, but the prices are moderate and the staff friendly.
L'Oro di Napoli in South Ealing serves some of the best pizza in all of London, yet is hardly known outside the local area. It is not far from the excellent and much-lauded Santa Maria, yet despite its obscurity I find the pizza here to be very fine, and right up there with its much more famous neighbour. The locals have clearly figured this out, as the place was heaving on this weekday night, and there will soon be a second branch in Hanwell.
Kricket Soho started out in a shipping container in Brixton before moving here, so ticks just about every hipster box possible. Naturally enough there are no reservations, the format is "small plates", it is fusion cooking, the seats are wildly uncomfortable, the staff are ludicrously fashionable and show no obvious knowledge of Indian food, and the dishes arrive in whatever order the kitchen damn well feels like. In my case the sequence was: all plates at once. The food was decent enough and prices are moderate, but seriously: who needs this level of aggravation when eating? The place is apparently already being lined up for an international franchise, assuming they can find enough bearded and tattooed staff.
Courchevel is a ski resort in the French Alps favoured by Russians and the seriously wealthy, preferably both. In the costliest sub-section of Courchevel, "the 1850s" is the hotel Cheval Blanc, owned by LVMH, and its restaurant 1947. This place opens only for a few months a year in the ski season, and is notionally run by Yannick Alleno of Ledoyen, though one of his sous chefs is actually in the kitchen here. The food was distinctly variable, with two very good dishes, but also some ordinary ones and some downright mediocre plates. At about €180 for a main course you might hope for sublime perfection but this is Courchevel, where the prices are a mountainous as the scenery. Quite why Michelin bestowed a third star on this restaurant is a mystery understood only by them.