The Top Restaurants of Hangzhou
Saturday, September 01st , 2018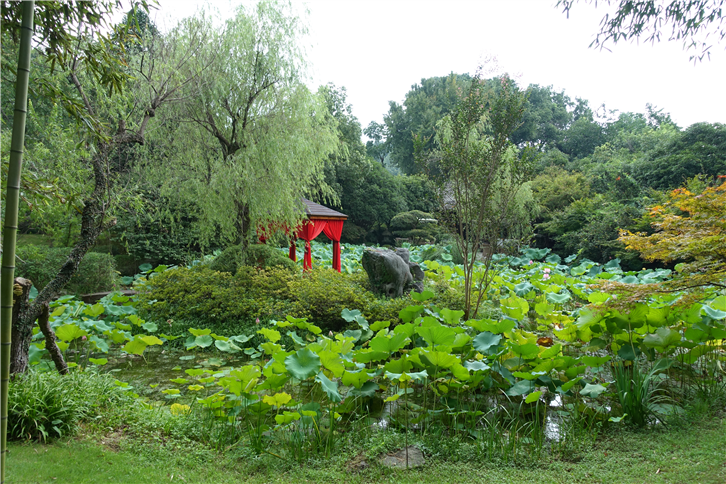 Hangzhou is a city just over one hundred miles from Shanghai, though it is connected on a TGV type train that does the journey in exactly an hour. Hangzhou was briefly the capital of China, and is something of a tourist attraction, the city being built around a large lake with some quite pretty views across the water. This is no quaint town though: it has a population of over ten million, so more people live here than in London. The city is home to the prized Dragon Well tea, and around the outskirts of the city are lots of tea plantations. In the hills above the city, in the midst of the tea plantations, is a 26 acre estate called Dragon Well Manor (pictured). This contains a very highly regarded restaurant of the same name, where you dine in one of eight private rooms overlooking the pretty gardens of the estate. The owner has adopted the "farm to table" philosophy enthusiastically, having his own farm and having built close relationships with a network of local farms that supply the restaurant. Every delivery of ingredients is meticulously documented in a series of illustrated ledgers, so you can read about the ingredients that you are about to consume, at least if you can read Chinese characters. The food itself was interesting, with clean and pure flavours. My Chinese friend was more taken with the food than I was, but it was certainly very pleasant, and the visit experience is impressive.
Back in the city on the shores of West Lake is a Hyatt hotel housing "28 Hubin Road", a restaurant that has been hailed as the best in all of China. We had an impressive banquet here, with the cooking quality very high throughout, and featuring a couple of dazzling highlights of the local Zhejiang cuisine. I have only had Chinese food of a comparable quality at Made in China in Beijing. The specialty dishes such as the dongpo pork and "beggar's chicken" here are not to be missed, and if you come here then check in advance with the restaurant about anything that needs advance notice to prepare e.g, the beggar's chicken takes three hours just to cook.
If you decide to take the train to Hangzhou from Shanghai then allow more time than you would normally do, as train travel in China is a much more bureaucratic process than in a western country. It is essentially like going to an airport, and indeed you will need your passport just to buy a train ticket in advance from a travel agent, as well as queueing up to show your passport at the train station, as well as a further queue for security, complete with metal detectors. There is yet a further queue near each train platform, and the access to the gates to your specific train closes five minutes before the train actually leaves. Hence you should turn up at the station at least half an hour before the departure time to be sure of catching your train.
Last week I covered the fine dining side of Shanghai, with reviews of both of the three Michelin star places there and all six two star Michelin restaurants in the city. To round things off, I also tried a few simpler places. Shanghai cuisine is noted for its xiao long bao soup dumplings, and I went to both the oldest place in the city serving the dish, and the place that is generally highly rated by the locals. Nanxiang dates back to 1900 and serves a seemingly endless stack of stacked steamer buns to an eager dining audience in a barn of a dining room. Even at the quiet mid afternoon time on a weekday that we went there was a lengthy queue, such is the magnetic pull of the place. To be honest the reality did not live up to the hype, the dumplings being decent but no more than that. Much better were those at Jia Jia Tang Bao, a much smaller, modest dumpling shop where the buns are hand made to order. This also has a perpetual queue outside, but at least here the end product is worth waiting for. As a bonus they are almost absurdly cheap to boot. Finally, I popped into a place called Xindalu, where I had some very good har gau dumplings but disappointing Peking duck, as well as hysterically bad customer service.