Revisiting some west London haunts
Sunday, August 10th , 2014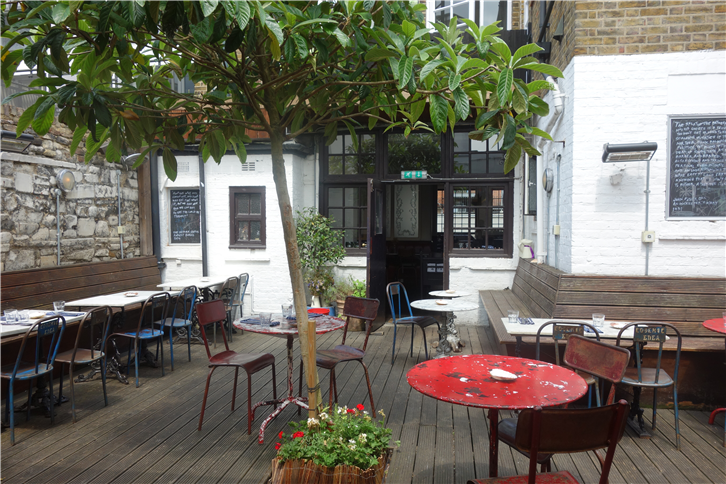 My second visit to Rivea confirmed my initial impressions. It is the latest addition to the Alain Ducasse empire, in the basement dining room of the Bulgari hotel. The room is cleverly designed, with the sweeping staircase creating a striking use of what could have easily been a dull space. More importantly, the food continues to be good, with excellent pasta dishes and desserts in particular. The gnocchi are as good as you are likely to taste, and a lemon dessert was classy on this, my second visit. Service is silky smooth.
I am very fond of Parlour in Kensal Rise, an unlikely spot for some innovative and skilful coking. At a meal this week we were able to sit in the pleasant garden (pictured) rather than the somewhat gloomy dining room. Salads are a specialty here, always interesting and prettily presented, and here a broad bean salad with summer truffles was most enjoyable. Old favourite chicken Kyiv with coleslaw and rosti was excellent as ever, and a soufflé could have come from a good Michelin-starred kitchen. The cooking here does not use luxury ingredients but makes great use of what there is, delivering high quality food at a low price point.
Charlotte's Bistro has a quite new chef, and he continues to settle in and bring in some new dishes. At a meal this week a cured salmon dish was interesting, but the pickled cucumber puree with it lacked enough bite. Chicken was nicely cooked, and the peas with it were fine. At my last meal here the sweet dish was poor, and this time a strawberry dessert was better, though I was surprised to see the stalks left in the fruit. Overall, this is still finding its feet under the new regime, but shows some promise.
La Mancha's chef recently retired, and in his place is a young chef from Spain. The menu is still tapas, but there was a noticeably broader menu, and less reliance on the deep fat fryer. The most successful dish of the night was a paella variation that was made using pasta rather than rice, but still cooked in a cast-iron pan. This was an interesting idea that I thought worked well. Less good was Iberico ham that was not cut very well. Still, the staff are friendly and it is a pleasant neighbourhood place.
It is not often that restaurants get featured much in theatre, but a decade ago I watched a wonderful one-man comedy called "Fully Committed" about a receptionist in an ultra-trendy New York restaurant. It is returning to the same theatre ten years on, and if you are in London between September 3rd and November 15th I highly recommend it - there are some memorable lines.