A Visit to Alsace
Saturday, November 07th , 2015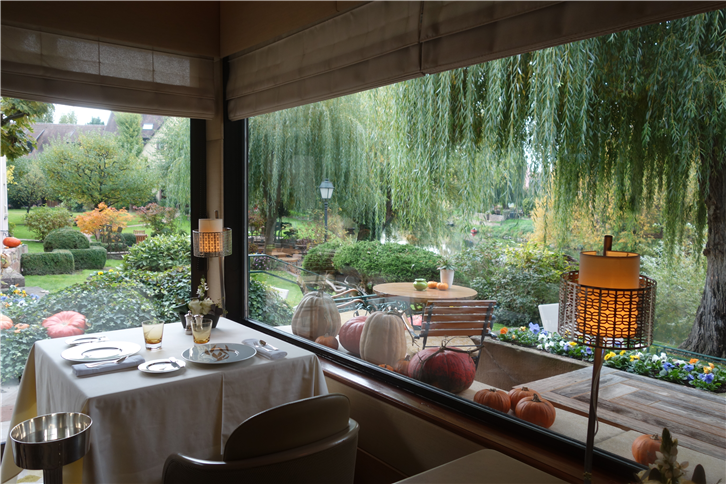 Schwarzer Adler is a Michelin starred restaurant in Baden owned by a wine producer; it is particularly famous for its wine list. The cellar has plenty of choice but that is true of many restaurants; what is different here is the price. Once you climb past the basic wines then you have to blink and check whether a trailing zero has accidentally been left off the prices. Instead of the London "four times retail price" formula, you will find wines here that are half their current market price, sometimes less. In some cases you really are drinking from a bottle that would be priced at ten times as much in Mayfair. The food is classical and enjoyable and the service friendly, and not surprisingly the place was packed.
Auberge de l'Ill (pictured) has had three Michelin stars for longer than any restaurant except for Paul Bocuse, and has one of the prettiest riverside settings of any restaurant, with a lovely garden and weeping willow next to the dining room. I have eaten there twice before, once much more successfully than the other. However at this meal it was firmly back on form, the star dish being a quail starter that was as close to classical French perfection as you could wish.
The Harwood Arms serves the best pub food in London, benefitting in particular from its co-owner Mike Robinson's love of game. Many of the animals used in the kitchen have been shot in Berkshire by Mr Robinson, and are prepared with skill by chef Alex Harper. Wood pigeon faggots were a richly flavoured example at this meal, and the signature venison Scotch egg is a glorious creation. Vegetarian options are more than an afterthought, as shown by an excellent spiced cauliflower dish with capers and raisins, and the doughnuts here are superb.
Lurra is a sister restaurant to Donostia, and seems to be the current darling of the London food bloggers. The bread (from Hedone) and the ham were certainly good, but the kitchen has had limited intervention with these items. However the house speciality of grilled turbot was a flabby disappointment, and a red pepper dish was over oily. This was a long, long way from the magnificent charcoal-grilled turbot served at Elkano and Kaia Kaipe on the coast of the Basque country.
The Michelin guide to western Japan came out, covering Kyoto, Osaka and Nara. Curiously, Kobe was not scored as a destination in this guide as it was previously, but will instead be assessed within a guide to Hyogo prefecture, to be published in December. For Osaka, Kyoto and Nara there were no changes at the three star level, but there were a few additions and demotions at the two and one star level. Kyoto has seven 3 stars, Osaka four and Nara one, so 11 in all for western Japan (Kobe was previously listed as having two as well). At the two star level, the count is 24 for Kyoto, 20 for Osaka and three for Nara (Kobe has 11 in the previous guide). At the one star level, the press release seems to have an error in it as the total quoted does not match the full listing. By my count, Kyoto has 68, Osaka 64 and Nara 12 one stars (Kobe previously had 39).
The Michelin 2016 guide to Hong Kong & Macau also appeared. Tang Court was promoted to three stars. Given that I wrote after I ate there that it was "laughable" that it had two stars, you can guess my view of it gaining a third, though this is the same guide that acclaimed Sun Tung Lok with three stars, so nothing surprises me any more. Ming Court deservedly gained a second star, as did Forum. Hong Kong now has 6 three star restaurants, 15 two stars and 41 one stars. In Macau there is still the pair of 3 stars, now 4 two stars with the addition of Jade Dragon and The tasting Room, and 10 one stars.