London Restaurants New and Old
Saturday, October 22nd , 2016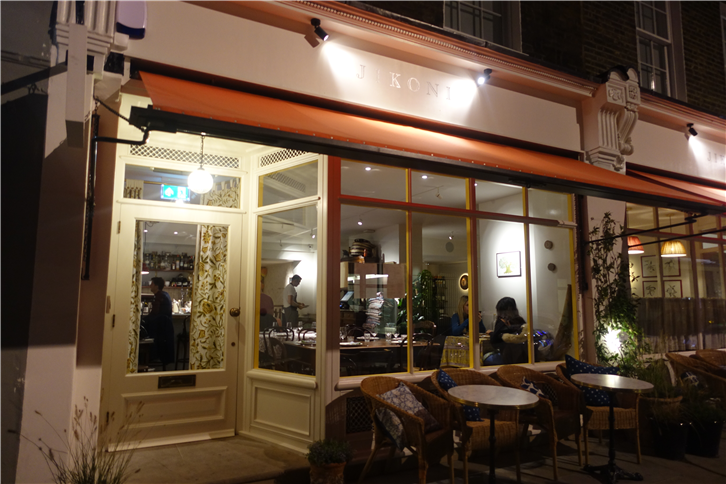 Jikoni is a fusion Asian/British restaurant that has opened in Fitzrovia to considerable fanfare. It is run by a very successful cookbook writer called Ravinder Bhogal, who has also appeared on television. I am especially fond of Indian food, having visited this fascinating country eighteen times so far, and so I was particularly looking forward to trying her British take on Indian dishes. Certainly the menu was very appealing, with some intriguing and unusual dish ideas, while the dining room was quirky but attractive and the staff charming. Sadly the meal that we ate left a lot to be desired. There were some decent dishes for sure, but nothing beyond pleasant, and there were also some pretty serious technical problems, such as badly overcooked lobster. Even with this dish graciously taken off the bill, the cost here is still quite high, and for me far too high for the level of food that I encountered. This restaurant had some very positive press, so I am not sure whether I went on a bad night or whether I just had overly high expectations. However if I compare this to a recent supper club (called Darjeeling Express) by Asma Khan, an Indian chef who has lived in Britain for many years, the latter's food was in a much higher class than what appeared tonight. Jikoni is actually next-door to Trishna, and it is hard for me to see why anyone would walk past that excellent restaurant to eat here based on what I ate.
El Pirata is a tapas restaurant in Mayfair that has been running for over two decades, no mean achievement in a city where the longevity of restaurants can all too often resemble that of a mayfly (consider the nearby 8 Mount Street site, which will shortly see its third restaurant in a year). It is not a flashy place and serves conventional tapas, such as fried prawns in garlic sauce and croquettas. It cooks these quite capably, and although it is not going to set the world alight it is a pleasant enough restaurant. It is a spot to consider if looking for a moderately affordable meal in Mayfair, not a common thing to find these days.
L'Amorosa served me another excellent meal this week. After some enjoyable nibbles involving ham, figs and Parmesan I had a particularly good beetroot salad featuring both regular and golden beetroot, followed by an excellent papardelle dish with porcini mushrooms, the pasta spot on and the flavour of the mushrooms excellent. When the kitchen is on form, as it was tonight, it can produce Italian food better than almost any in London, yet the prices here are very modest.
The Switzerland Michelin Guide 2017 came out, with no change at the three star level, two new two stars and two demotions. There is now a trio of three star places, 19 two stars, and 95 one star restaurants in Switzerlland. This country, incidentally, has the largest number of Michelin stars per head of population if you ignore city states such as Monaco.