Visiting Taipei
Saturday, August 18th , 2018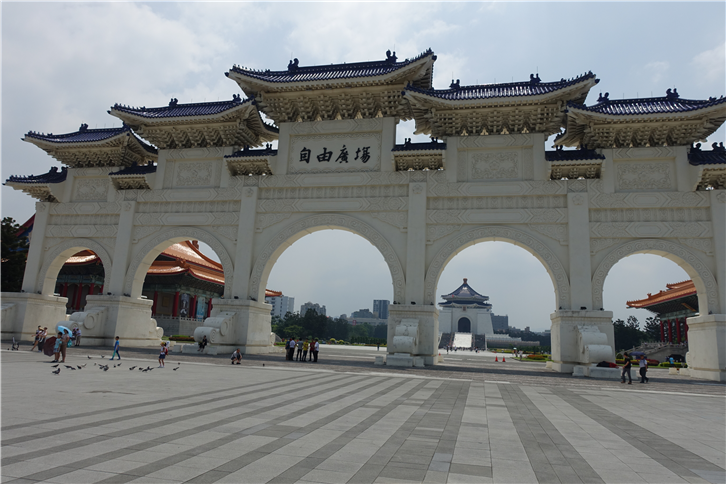 Taipei is the capital of Taiwan, a large island off the coast of China formerly known as Formosa in colonial times. It effectively became a separate country during the Chinese civil war, when the man at that time in charge of China, Chiang Kai Shek, was overthrown by Mao Zedong. Chiang Kai Shek and his followers fled to Taiwan, which ever since has maintained an uneasy relationship with Communist China on the mainland. Taipei is a prosperous, modern city with a particularly impressive and vast National Museum that holds three quarters of a million artifacts, from exquisite jade carvings to jewels, bronzes, antique furniture, art and calligraphy. Chiang Kai Shek, whose own memorial building is pictured, brought most of these treasures from Beijing when he fled the Communist uprising in 1948.
Recently the Taiwan tourist board sponsored a 2018 Michelin guide to Taipei. In this inaugural guide there were a pair of two star restaurants, The Guest House and Ryugin, and a solitary three star called Le Palais, as well as 16 one star restaurants. Both The Guest House and Le Palais offer mostly Cantonese style food, both in a smart hotel setting. The Guest House was remarkably ordinary, with a decent simple dish of prawns and peas but clunky seafood dumplings and mediocre noodles. Barely better was Le Palais, which featured some sadly overcooked scallops in one dish as well as soggy gai lan. If you walked down, say, Queensway in London you would find better several better restaurants than these.
By far the best meal of my trip was at Ryugin, the local outpost of the three star Michelin Tokyo kaiseki restaurant. Just as in Tokyo (there is also a branch in Hong Kong), Ryugin here offers a tasting menu that takes a quite modern approach to Japanese cooking, following the structure of a kaiseki meal but happy to use the latest culinary gadgetry and to offer a modern interpretation of classic dishes. There were some real highlights in this meal, with a stunning fig tempura dish, and a fabulous dish with pigeon cooked in different ways served on a bed of rosemary. The standard of the meal was very high, strong two star Michelin level by any standards. Ryugin knocks Le Palais and The Guest House into a cocked hat, and I really struggle to understand the perverted logic that could cause a Michelin inspector, or indeed any sane individual, to rate Ryugin below Le Palais. This is not just my view: I have spoken to a number of well travelled foodies who know the Taipei food scene, and a couple of Taipei restaurateurs to boot, and they were all as baffled as me.
Taiwanese food has a shining commercial success in the form of the soup dumpling chain Din Tai Fung, which has grown into a veritable empire of locations spread across thirteen countries so far. It is famed for its xiao long bao dumplings, which have a liquid pork centre. I went to the original branch, where there is a perennial queue. They offer a quite wide menu, though of course the dumplings are the centrepiece, and very good they are too. I also particularly enjoyed wonton dumpljngs with red chilli oil. Although this is a restaurant chain, to be perfectly honest I enjoyed my meal at Din Tai Fung more than at the smart Guest House or Le Palais, although a meal here cost a tiny fraction of the price of those places. In another curiosity, although Michelin have awarded stars to Din Tai Fung branches in Hong Kong, they have not done so here, where the chain is based; this seems rather inconsistent. Finally, I had an enjoyable meal at a restaurant called Gen Creative, a fusion restaurant. I didn't pay for this meal (I was invited via a friend) and consequently don't feel comfortable reviewing it, but it was good, and worth considering if you are planning a trip here. I found Taipei very hospitable, with a lot more English spoken than I had expected, and I can highly recommend the Mandarin Oriental hotel, which was exceptional.
Overall, Taipei is an enjoyable city to visit, with some interesting places to see and at least one outstanding restaurant in the form of Ryugin. Moreover, with Din Tai Fung having seventeen branches here, you can have as many carefully made soup dumplings as you could dream of.