Tasty Thai food from the Fulham Road branch of Patara
Saturday, September 08th , 2007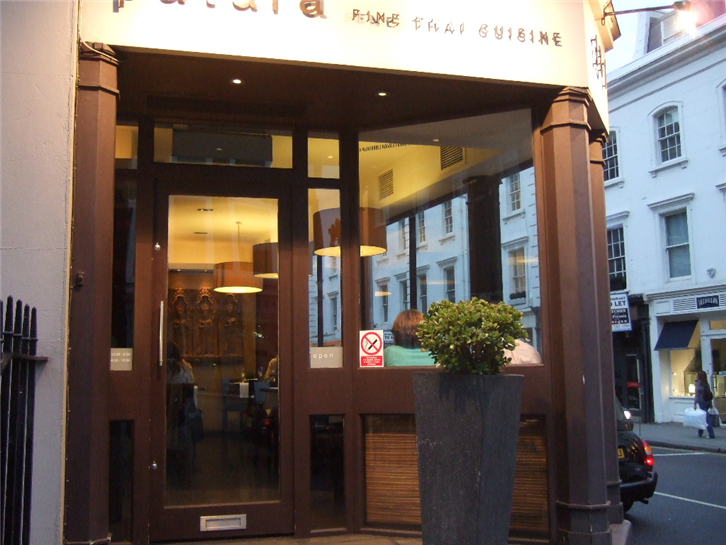 The Brackenbury continues to deliver excellent, unassuming food in its weird location at the end of a residential street in Shepherds Bush. I think the locale means that it gets less attention than it deserves, since both the meal I had this week and the last meal I ate there were 5/10 level, and yet the prices are still resolutely fair. If this was in Mayfair or somewhere trendy like Shoreditch it would be getting rave reviews, but it just goes along quietly. La Trompette has the edge, but otherwise it seems to me the best restaurant in West London. A traditional lobster bisque had genuine depth of lobster flavour, and even better was a pair of quail with cocotte potatoes. The quail was beautifully cooked and tasted terrific, much better than a similar dish at Racine a week before. A home-made mango ice cream finished off a thoroughly enjoyable meal. Arbutus gets a Michelin star for serving bistro food less good than this.
Patara is one of those that by rights should be dismal. It is a mini-chain, and moreover an "international" chain with branches in Singapore and Taiwan as well as Bangkok and London. The decor is smart and has a faint corporate design whiff to it, as if it was really wanting to be inside a posh hotel. There are four Pataras in London, and this week the tube strike meant that we stayed in west London and tried the Fulham Road branch, which in fact was the first to open in the UK. Yet the food is very real Thai, with classics such as tom yum goong soup executed very well, and more adventurous variants, such as raw tuna salad with Thai mint leaves and oriental dressing. Snow peas were stir-fried lightly and worked well. There were some caveats e.g. rather cheap (though nicely cooked) prawns but certainly Patara is still the place to beat for Thai food in London. The contrast between this and the dismal food I had at the new place in Chiswick, Boys, last week was vast. Incidentally, I just spotted on the leaflet that came through my door that Boys advertises itself as "Authentic Thai", but due to a trick of the way the logo is laid out it appears to be "Authentic Thai Boys". Now I am sure there is a market for this kind of thing in bohemian Chiswick, but it is probably not the marketing slant they were intending.
Madhu's delivered another fine Punjabi meal, with very tender achari prawns beautifully cooked in the tandoor. The treatment of rice is probably the best in London, with a prawn biriani having superbly well defined rice grains as well as tender prawns. The malai chicken tikka is up there with the very best in the capital. Again, its out of the way location means that Madhu's will never get a lot of column inches in the metropolitan press, but in general areas like Southall are exactly the place to find top notch Indian food. The cooking here beats Benares, for example, into a cocked hat, but food writers like to stay within the Circle line. To me the top Indian places in London, in no particular order are Haandi (admittedly in Knightsbridge, but with its original branch in Edgeware), Brilliant and Madhu's in Southall, Tangawizi in Richmond, Kastoori in Balham, Rasa in Hackney (and now other places) and, until a few weeks ago when it sadly closed, Sabras in Willesden. Areas like Southall, Tooting and Wembley are where large Asian communities live, so it is hardly surprising that this is where the best Indian food is to be found, yet the "remoteness" of these areas seems to put off the well-known critics.
As an aside, I am now the proud owner of a Gaggenau BO 241 oven, a state of the art piece of German engineering, with a gas hob also from Gaggenau. I feel like a parent must do with a new child, except the Gaggenau is a great deal cheaper to run, does not keep you up at night and actually performs a useful function. All parents carry around pictures of their little darlings, so attached to this blog you will see a snap of my little German delight with a couple of partly made passion fruit souffle's being cooked (which turned out beautifully).