This week I visited New York
Saturday, November 28th , 2009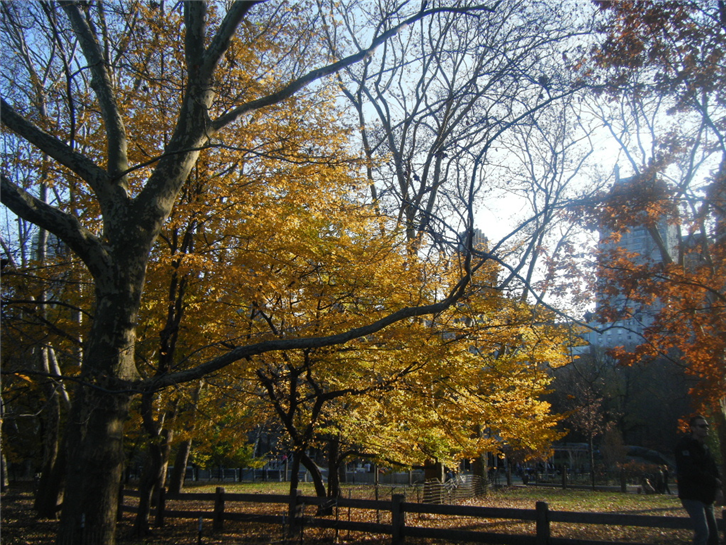 This week was spent in New York (pictured). Last year I visited Per Se and Masa, so it seemed time to go back to Le Bernardin, Jean Georges and Daniel, all of which now have three stars in the 2010 New York Michelin guide. I won't repeat the reviews here, but overall I found Daniel consistent and enjoyable, Jean Georges inconsistent yet enjoyable, while Bernardin managed to be consistently pleasant yet somehow uninteresting.
None of these meals were bad, yet the notion that any of this trio (or indeed Masa) deserve three Michelin stars seems to me to be pretty much laughable: I had a single three star level dish on the entire trip (a tuna dish at Jean Georges). Something seems simply awry in the radar of the New York Michelin inspectors: it is hard to imagine that they can have eaten widely elsewhere (in Paris say, or even Bergisch Gladbach) and still reach these scores. It must also be very frustrating for the better European two star chefs to come to New York and see what passes for three stars here. I suspect one issue is the sheer size of the dining rooms: the trio I visited on this trip could each seat over 70 (over 100 in one case) at any one time, and tables were being turned like spinning tops. It is hard to produce truly fabulous food on such a scale, and I don't think it is a coincidence that most three star places in France and Germany seat less than 50 diners at a sitting.
My (American) foodie friend Josh, who has eaten widely in Europe and elsewhere, calls this over-scoring effect the "Michelin affirmative action program for US restaurants", which sums the whole thing up pretty well. It is one thing for there to be inter-country consistency issues, but there are also oddities within the same city guide. Certainly this trio of three star meals was pleasant, and yet a dinner at Eleven Madison Park, which was ignored entirely in the 2009 Michelin and gets just one star in the new 2010 Guide (though a maximum four stars in the New York Times) was as enjoyable as any of them. As far as I am concerned this was a case of New York Times 1, Michelin US 0.
I also tried Marea, an expensive Italian seafood restaurant that was wildly popular, and Nougatine, a disappointing café. As a side note, I finally found a good hotel in New York after many, many attempts: The London on west 54th street, which actually managed a decent sized hotel room in Manhattan.
Several Michelin guides came out this week. In the Hong Kong and Macau guide, Caprice was elevated to three stars. This means that in Hong Kong there are two three stars (Caprice and Lum King Heen), eight two stars (Amber, Fook lam Moon, L'Atelier du Joel Robuchon, Ming Court, Petrus, Shang Palace, T'ang Court and Tim's Kitchen ) and now 32 one star places. In Macau, Robuchon Galera is the sole three star restaurant, Zi Yat Heen now has two stars, and there are seven one star places.
In Europe da Vittorio in the Italian Lakes area was promoted to three stars. There were no other changes at the three star level in Italy, and 32 new starred places in all. There were seven new two star awards: Piazza Duomo, Antica Corona Reale- da Renzo, Il Mosaico (Terme Manzi Hotel), La Madia, Il Pellicano, Trenkerstube (Hotel Castel) and Met (Hotel Metropole).
In the Netherlands there was no change at the three star level, though Boreas in Heeze gets a second star; in total there are 91 starred restaurants in the Netherlands. In the Belgium and Luxembourg guide there are 114 starred restaurants in all, 19 of them new. Four restaurants are promoted to two star level: Slagmolen in Opglabeek, Chateau du Mylord in Ellezelles, which wins back the star it lost 3 years ago, Hertog Jan in Bruges and L'Eau Vive in Profondeville.
In Spain El Celler de Can Roca gains a third star, with no other changes at that level. Spain has a dozen two star places and 130 one star establishments. Promoted to two star level were: Casa Marcial, Lasarte at Hotel Condes de Barcelona, La Terraza del Casino at Casino de Madrid, Les Cols and Fina Puigdevall. Tristán (in Portals Nous, Mallorca) lost its second star. It was nice to see Etxebarri getting a star; it certainly deserved it, based on my meal there in September. All the 2010 Michelin country guides have now appeared except for the UK (usually late January) and France (March). The current three star tally can be seen here.
I was interviewed on Columbian National radio this week about the new Michelin guides; it is curious that Michelin can generate such interest even in a country where it has never published a guide. If anyone is interested in hearing the interview let me know and I will email you the MP3 of the interview.