Sushi in Wimbledon
Saturday, September 24th , 2016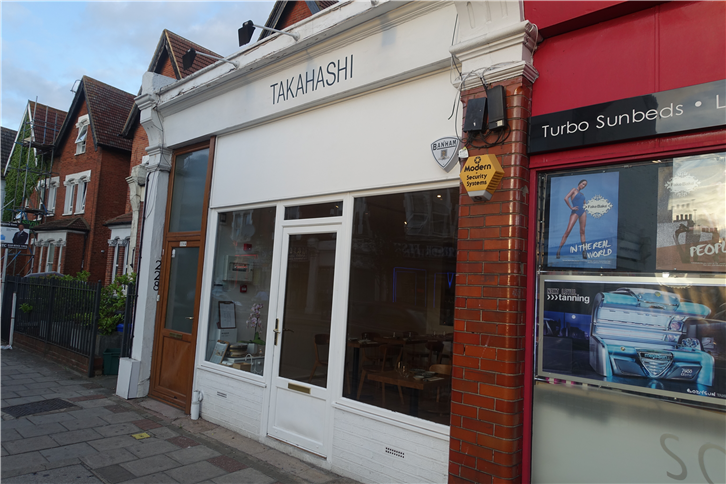 Takahashi is Wimbledon has a chef that trained in Japan and later worked at Nobu over here. The menu, as often with Japanese restaurants in London, flits about much more widely than is typical in Japan, where specialisation can be remarkably niche (some restaurants in Tokyo serve just eel, for example). Here there is sushi and sashimi but also Japanese beef, tempura and grilled food. It is difficult to replicate the experience of Japanese food in London, since so much depends on the ingredients, and Japanese ingredients are arguably the best on earth. Takahashi does not help itself by cutting corners: no freshly grated wasabi root here, but powdered coloured horseradish from a tube, which is much cheaper. This aside, Takahashi served me a good meal, and I wish them well. Wimbledon is not exactly awash with fine restaurants, and it is nice to see a decent place opening up around here.
Zafferano was where Giorgio Locatelli made his reputation in London, gaining a Michelin star for the restaurant before going his own way with Locanda Locatelli. Andy Needham continued the standard, retaining the star until a coulple of years ago, when he also decided to plough his own furrow in the much more informal (and cheaper) local l'Amorosa. Daniele Camera is the chef here these days, and although the Michelin star has not returned, the restaurant still does plenty of business in the heart of Belgravia. The pasta dishes continue to be good, with miniature ravioli with sage having lovely texture. However a summer salad was pretty ordinary, which is a pity since salads used to be a strong suit of the kitchen. Dessert was better – an excellent peach millefeuille being most enjoyable. Service continues to be smooth, though the wine list, never a bargain, has become costlier and costlier. It is the inexorably increasing prices that are the main issue here as far as I am concerned.
The Duke of Sussex is a Victorian era pub in Chiswick whose food is more interesting than one might imagine. There are pub staples like fish and chips for sure, but in general the food offered here is Spanish. They make a capable tortilla, and the seafood paella here may not be a purists's idea of a classic rendition but it is enjoyable. They make their own bread in the tiny kitchen, and a sea bass dish that I tried at this visit was accurately cooked. The Duke of Sussex is not a destination restaurant, but is reliable and good value, and the best gastropub in the local area.
In other news, the a brand new Michelin Guide to Shanghai was released. Michelin has announced several new guides (other forthcoming ones are to Washington D.C. and Seoul, as well as the recently released Singapore guide). At this stage it seems unclear whether these will become regular annual guides or "special edition" (one off) guides where the stars expire after a year and there is no update issued. Examples of this approach were the Hokkaido guide and the Hiroshima guide, for example. Even regular guides are not guaranteed long life - the Las Vegas and Los Angeles guide was dropped after two years due to poor sales, and Austria no longer has a dedicated guide for similar reasons. In this guide Tang Court was awarded three stars, and there were seven two stars (including the popular Ultraviolet) and 11 one star places. Given the standard of Tang Court in Hong Kong, I am not filled with anticipation about the quality of its spin-off in Shanghai.