Summer fun at the Taste of London festival
Friday, June 22nd , 2007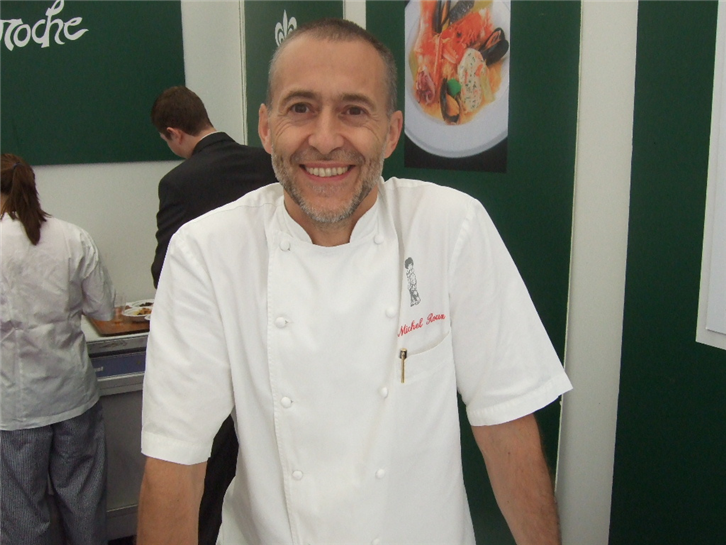 I just had an enjoyable afternoon at the Taste of London festival, which runs from 21st - 24th June in Regents Park. The event is a mixture of producers offering samples and selling their wares, combined with a number of cookery demonstrations by celebrity chefs. However most will come to sample mini tapas-style dishes from some of the top restaurants in London I rather expected most places to send their most junior trainee chefs to cater to the peasants such as myself, but in fact quite a number of celebrity chefs were around. Giorgio Locatelli looked suitable stylish in the sunglasses that Italians appear to wear whatever the weather. Albert Roux Jr of Gavroche (pictured) was on hand to dispense excellent lobster bisque, as was Jun Tanaka of Pearl (I tried a very pleasant spicy tuna dish).
Other dishes sampled included excellent seasonal asparagus from Pied a Terre, wagyu beef from Cocoon (just the Australian kind, not the far superior Japanese version) and rather ordinary lemon tart from Rhodes 24. No less than 41 restaurants had stands, including Yauatcha, Tamarind, Tom Aikens, Theo Randall (there in person) and Benares amongst others. Even the Connaught team put in an appearance, perhaps made easier given the place is currently closed for refurbishment. It was a place to bump into old friends, such as the maitre d' who smoothly ran Chez Nico at 980, Jean Luc, who I discovered is now general manager at the very successful Cinammon Club. David Moore from Pied a Terre looked particularly relaxed in an Hawaian shirt, and there was a generally carnival atmosphere.
If you want to join the fun this weekend then sessions are at 12:00 - 16:00 and 17:30 - 21:30 on Saturday, 11:00 - 15:00 and 16:00 - 18:00 on Sunday. See www.channel4.com/tastefestivals for further information. Once you have your ticket you need to buy "crowns", in order to purchase the chefs dishes: £10 buys you 20 crowns, and dishes are between 6 and 10 crowns each. If you are going for lunch then you could reckon on five or six of the dishes, given their size. If you are a British Airways Silver or Gold card holder then bring your card along, as this gets you access to the lounge, with free champagne and somewhere to shelter from the occasional shower.
I'd recommend getting there on time, as some of the nicer dishes ran out later on. There was a relaxed atmosphere, which became more so as people discovered the free samples of wine on offer from various suppliers. The wisdom of putting tents where you could try out Japanese chefs knives just next to tents serving free alcohol remains to be seen, but I didn't actually notice any people with missing fingers.
My regular weekly restaurant blog will appear as usual tomorrow.