A Mixed Week of Dining in and out of London
Saturday, October 25th , 2014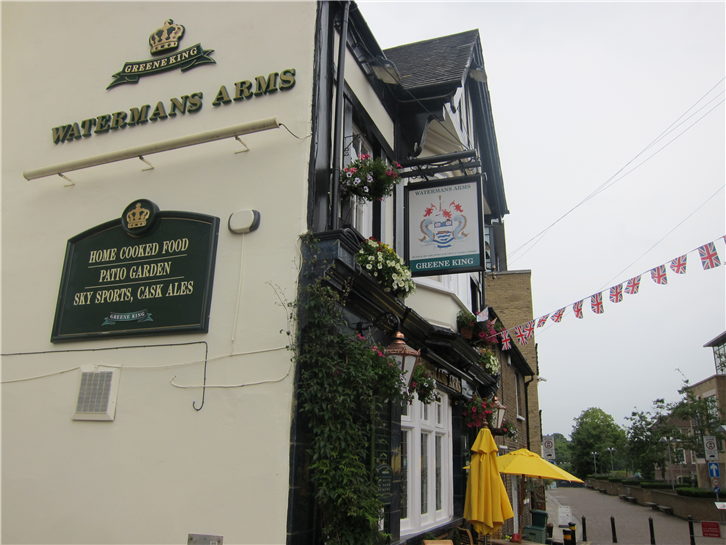 The Palomar in Soho has created quite a social media buzz since it opened in the summer. Although based on a restaurant in Jerusalem the cooking is Mediterranean rather than kosher, pulling in influences from around the region. The place is casual and has a buzzy atmosphere, and the dishes I tried were decent enough, but it was hard for me to see what all the fuss has been about based on this meal. If you do try it then I recommend the kubaneh, a pot-baked Yemeni loaf.
The Sir Charles Napier is a country pub in Oxfordshire that has a Michelin star. The place is cosy but the meal that we had was pleasant but quite ordinary in standard, nowhere near one star level at any point. Moreover the dinner was quite expensive despite the sensibly priced wine list, and service was, not to put too fine a point on it, a shambles.
The Watermans Arms in Brentford is a simple boozer but one that serves Japanese food alongside the fish and chips that the locals expect. Its chef and landlord has a Japanese wife and lived in Japan for some time, so the cooking has an authentic feel to it rather than being some marketing gimmick dreamt up by a pub chain head office. Appropriately, they serve the hearty food of the izakaya (Japanese bar) rather than refined kaiseki dining. We had a little tasting menu this week (which needs prior notice to be arranged) and enjoyed a four course meal of carefully cooked dishes, which was great value at just £24.95 a head.
The Bull and Last is one of London's best gastropubs, and I have had some very enjoyable meals there. The upstairs dining room, with its murky lighting and stuffed animal heads on the walls, may not be one of the capital's more attractive dining rooms, but the food is very good indeed. On this visit the loin of venison was carefully cooked, and the finger-shaped doughnuts I tried for dessert would have delighted Homer Simpson.
In other news, the Michelin 2015 guide to Kansai came out. There was no change at the three star level. In Kyoto, two stars were awarded to Iida and Mistsuyasu, and in Osaka two stars were granted to Aoki. Kyoto has 7 three star places, 22 two stars and 67 one stars. Osaka now has 4 three stars, 17 two stars and 66 one star places. Kobe has a pair of three star places, 11 two stars and 39 one stars, while Nara has a single three star, three two star places and a dozen one star establishments.
The 2015 Michelin guide to San Francisco also appeared. There were promotions to three star level for both Benu and Saison. Acquarello gained a second star. In total the Bay Area now has 4 three star places, 6 two stars, and 30 one star establishments.