A Mix of the New and the Familiar
Saturday, October 17th , 2015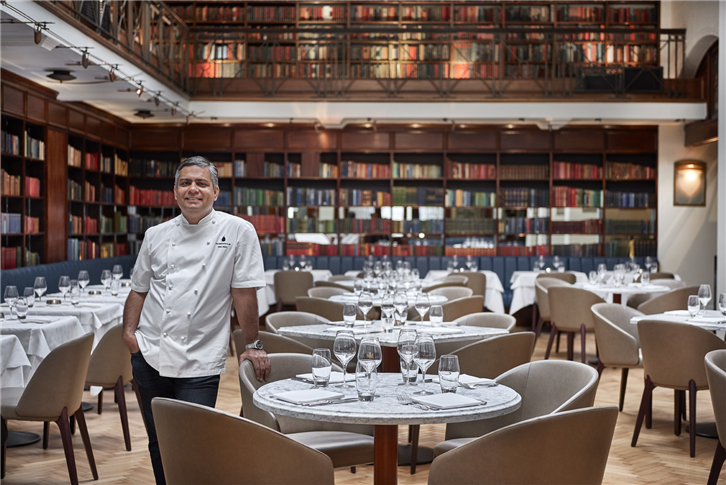 I am lucky to have Amorosa within walking distance of where I live. Its chef/owner, Andy Needham, was the head chef of Zafferano for many years, and it is always interesting to se what a Michelin-starred chef can do when cooking simpler food. Just as when he was at Zafferano, the strengths of the cooking at l'Amorosa are the pasta and the skilful salads based on good ingredients. A starter of beetroot salad with walnuts and Italian cheese had attractive presentation, with discs of both regular and golden beetroot. Pasta with a rich ragu was excellent, as was tagliolini with prawns, tomato and chilli. Chocolate fondant was suitably rich to finish, its liquid centre an indulgent way to finish the meal.
The Hour Glass has recently opened, run by the owners of the successful Brompton Market, an all-in-one butcher, greengrocer, fishmonger and deli. Its wood-panelled upstairs dining room is cosy and has a short but appealing menu. The Scotch egg that emerged from the small kitchen was pretty special, using rare-breed pork and being superbly prepared. A mackerel starter was also precisely cooked, as was a fine game pie. As a bonus the wine list is kindly priced, and overall this is a place that I heartily recommend. There are so many over-hyped London openings these days but this is the real deal.
Bouillabaisse in Mayfair was set up by the founder of the first Nobu in London. With such a track record you would not expect bargain-basement pricing, and indeed the prices here are eye-watering in places. At least the fish is of good quality, with tanks downstairs filled with crabs and lobsters, and fish brought up from Cornwall each day. The kitchen seems to work best when at its simplest, with a very nicely barbecued monkfish served plain. When more intervention happens it is not always well-judged, such as an overly strong orange and fennel dressing with a shellfish tartare. At this price point any little slips become annoying, and although I like the idea of a simple seafood restaurant it is hard to reconcile ths particular one with the bill that arrives.
Cinnamon Club (pictured) recently underwent a major refurbishment, re-emphasising its background as the Westminster library with the shelves of books now extended to ground level throughout. It has always been an appealing space in which to eat, the service run by an excellent manager, Jean-Luc Giquel, who used to be maitre d' of Chez Nico at 90 back in the day. The menu seems largely unchanged, with its range of Indian dishes frequently using ingredients that are a step up from a high street curry house: Romney marsh lamb, halibut and deer are on offer as well as butter chicken.