Visiting Guernsey
Saturday, October 14th , 2017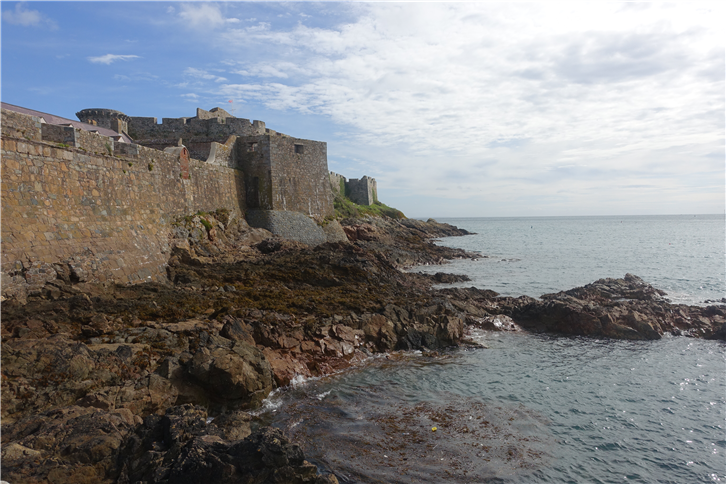 It is tricky to find good Malaysian food in London, and I have tried. For a time there was an excellent place in Bayswater called Kiasu, but that closed. There is Satay House, and Tukdin, and the dismal late unlamented Jom Makan. The best bet is the new, sleek Zheng, which is pricy but actually pretty good. though not entirely Malaysian. This week I tried Melur, which is a basement place on the Edgware Road that seems to be authentically Malaysian. The food was rather erratic in standard, but the service was dismal in various ways. It was inexpensive and so you could consider going there, but the service levels there are almost entertaining bad.
I also had a visit to Guernsey, a little piece of Britishness just off the coast of Brittany. It is a "crown dependency" so it technically independent of the UK, rather like The Isle of Man. It has its own parliament and is not part of the NHS, for example, though its laws are generally similar to and mostly based on UK law (entirely so in matters of defence and immigration) and there are plenty of links to the mainland in all sorts of ways. It is noted for its 20% maximum income tax and absence of VAT, with a GDP/head 25% higher than the UK. As a visitor you notice the little differences, such as the pound notes, the absence of Uber (getting a taxi is a non-trivial business) and the yellow phone boxes and blue post boxes. It felt like a prosperous place and has a few tourist attractions, including Cornet Castle (illustrated) in the main town of St Peter Port.
The island boasts 242 restaurants on an island of around 60,000 people. Sadly, none of the establishments that I tried were much good. Petit Bistro had the odd decent dish but also some lazy mistakes, such as serving an obviously burnt side dish. Its service was comically bad, and made the service at Melur look like Le Gavroche. Pier 17 was harmless enough, a seafood restaurant looking over the water. It managed a decent dish or two to begin with, but the standard dropped like a stone when desserts arrived, and one fish dish was mislabelled (it is funny how when that happens a cheaper fish appears in place of the advertised expensive one, and never the other way around). The Curry Room is a luxury hotel's take on Indian food, and although the room is cosy it really felt as if the food had been produced by someone who had read about Indian food but never actually tasted it. Maybe there is somewhere better on the island that I missed, but I tried quite hard to research things beforehand, and did not stumble into these places at random. It is quite a culinary contrast with slightly larger Jersey, which has several Michelin starred restaurants.
In other news, the Switzerland 2018 Michelin Guide came out. No change at the three star level, but two promotions to two stars: Einstein Gourmet and Restaurant Taverne zum Schafli, balanced by two deletions at the two star level: Bumanns Chesa Pirani and Focus. There is a trio of three star restaurants in Switzerland, 19 two stars and 96 one star, 118 starred places in all.