From Anglo to Angler
Saturday, August 27th , 2016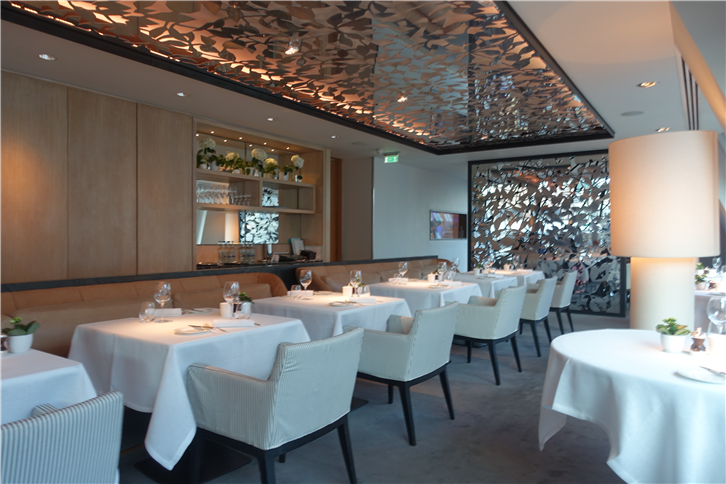 Angler in the South Place hotel (pictured) has a new chef in the form of Gary Foulkes, previously head chef at the two star Michelin The Square. Angler has a light, airy dining room and its carpet means noise levels are lower than many places, with the food emphasis being on seafood, as the name suggests. This meal was a rather erratic affair, with excellent nibbles and starters, pleasant main courses but poor vegetable side dishes. The product quality used here is good but prices are very high indeed, both for the food and wine, so any little problems are grating. Perhaps things are more consistent when the new head chef is actually in the kitchen, but then customers are paying the same whether he is or not. Overall it was still an enjoyable meal, but it felt less reliable than under its previous chef Tony Fleming.
Anglo is a new Farringdon venture from a chef who has worked in some serious kitchens. It offers a short modern British menu, with good ingredients and with excellent bread made from scratch in the kitchen. Presentation was attractive but more importantly the flavours were good, with for example some genuinely lovely broad beans that accompanied smoked pork neck. This was an assured meal and one of the best new London openings I have been to for a while. I am sure it will do well.
Madhus at The Sheraton is the Heathrow sister of the long established Madhu's in Southall. It is much smarter than its older sister, and has a key advantage in the kitchen in the form of a robata grill, which imparts a pleasing charcoal flavour to some dishes. An example is the tandoori lamb chop, which is the best I have tried, the smoky hint from the grill creating a delightful flavour. Another consistently excellent dish is the methi gobi, cauliflower florets flavoured with fenugreek, which retain their texture and are suffused with spices. Other dishes are good here too but these are the stand-outs for me. If you are ever in the Heathrow area and looking for a meal then head here.
L'Amorosa is a neighbourhood Italian in Ravenscourt Park run by Andy Needham, previously head chef at Zafferano when it had a Michelin star. It is good value and the pasta and risotto dishes in particular are excellent. Andy uses many of the same suppliers as when he was in Belgravia, and so you are getting classy food but at a very local price. This has become a regular haunt of mine, and offers Italian food as good as many much pricier venues.