London and beyond
Saturday, December 03rd , 2016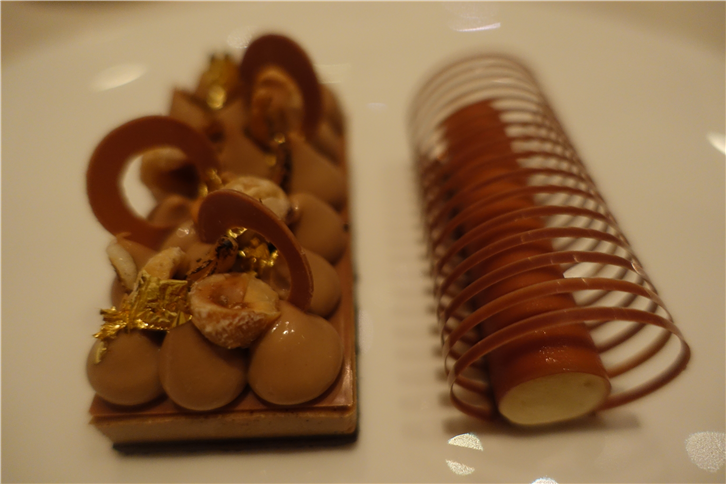 Veeraswamy is London's oldest Indian restaurant, opening in 1926. Now under the same ownership as Chutney Mary and Amaya, the venerable restaurant received a Michelin star in the 2016 guide. The meal that I tried was actually very good, with raj kachori particularly impressive, which along with a classy chicken biryani were the stand-out dishes. Service was slick and although prices are quite high this is certainly up there with or beyond some of the other posh Indian offerings in London.
Bonhams was my favourite London opening of last year, and continues to impress. At this meal there was a lovely scallop and Jerusalem artichoke dish, and classy fallow deer. The wine list here is a joy, with the higher end of the wine list essentially all around retail price or with minimal mark-up, as distinct from the usual three or four times retail price that is normal in Mayfair. I was delighted that it received a Michelin star so early, and it is one that is richly deserved.
Coworth Park near Ascot has seen a revolving door of chefs arriving and departing in recent years. The latest incumbent is Adam Smith, a Roux Scholar and formerly the premier sus chef at the Ritz. Pickled mushrooms with artichoke custard was a really interesting and classy dish, but save room for dessert. Adam has brought with him from the Ritz the talented pastry chef Lucy Jones, who produced a genuinely stunning hazelnut dessert (pictured) that would not be out of place in a 3 star restaurant. It is great to see Coworth Park finally have such a talented team at the helm – go there while you can still get a table.
Talli Joe has garish décor and a casual vibe and is on Shaftesbury Avenue, so on the surface does not seem a promising place for high quality Indian food. However the pedigree of the chef (head chef of Benares and worked in some very serious European restaurants before that) and the intriguing menu suggest some more than a Covent Garden tourist trap, and so it is. Dishes are deliberately half size so that you can try lots of things, and prices are moderate. This was my second meal here and the overall standard of cooking is high. At this visit red mullet, filleted and reassembled and served with a seafood curry, was genuinely top-notch. Even better was magnificent murgh malai tikka, the chicken ultra-tender and suffused with spices. I have eaten many versions of this dish in India, and the one here is right up there with the best. Talli Joe seems to have eschewed PR and has been ignored on social media, yet was absolutely packed at this meal, which is not surprising. Keep an open mind, move past the décor and enjoy the food here – you won't regret it.
I also had a very good meal at the ever-reliable The Brilliant in Southall, an institution that I have been frequenting for 25 years now. Their aloo papri chaat was excellent, as was my old favourite the methi chicken, which has lovely fenugreek flavour. They also make very good vegetable dishes such as aloo gobi, and are one of very few restaurants in the UK to make romali roti, the thinnest of Indian breads.
The Tokyo Michelin Guide for 2017 came out. No change at the three star level except for the removal of Esaki, which is moving premises, and a new two star in the form of Amamoto. There are now 12 three star, 54 two star and 161 one star Michelin restaurants in Tokyo, by some margin the most of any city. Michelin Germany 2017 was also released, with no change at the three star level, three new 2 star places (Rutz, Opus V and Geisels Wercneckhof) and three demotions from 2 star (Residence, Il Giardino and Fahraus). In total Germany has 10 three star restaurants, 39 two stars and 253 one star establishments.