A Japanese Mayfair eatery opens in Chiswick
Saturday, December 31st , 2011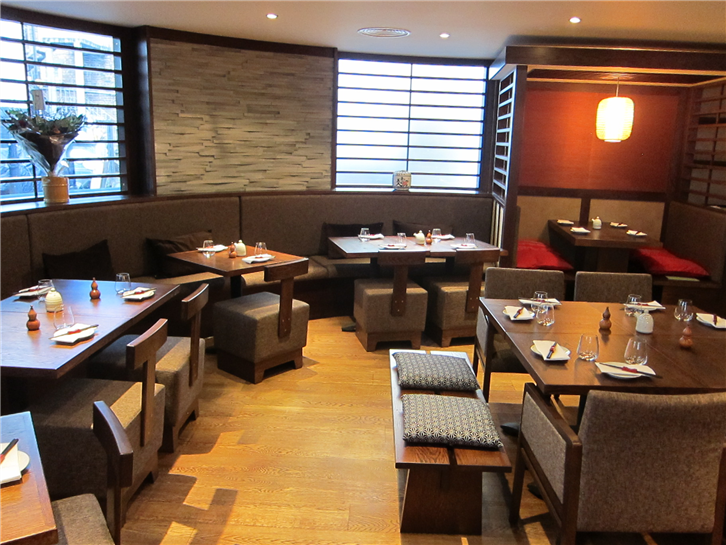 Chiswick is gradually attracting a higher class of restaurants, for which we can thank Nigel Platts Martin, whose La Trompette blazed the trail here. Now Chiswick also has Hedone and Franco Manca, as well as a number of other very serviceable places to eat, such as Michael Nadra and the admirable pub The Duke of Sussex. For some reason, though, ethnic food has been a weakness. There are no decent Indian or Chinese places whatever, and just a couple of distinctly ordinary Japanese restaurants. I was particularly interested when Chisou announced that it was opening a branch. Chisou is one of the better Japanese restaurants in London, and they have certainly done an excellent job of refurbishing premises (pictured) opposite Sam's Brasserie. However, although the food I sampled over two visits at Chisou in Chiswick was quite good, it did not have the accuracy and eye for detail of the original Chisou in Mayfair. To be fair, this was early days, and the food was certainly pleasant, just not firing on all cylinders yet. Nonetheless, this is still the best Japanese food in Chiswick, though I will still be tempted to hop on the tube to Kiraku in Ealing, which has the bonus of being exceptionally good value. Now, if only Chiswick could attract some decent Indian and Chinese restaurants (he says, hoping some restaurateurs may be reading this)….
Number 35 is the restaurant of the boutique Hempel hotel, and has a chef with pedigree at Arbutus and The Capital. The food was pleasant enough, and the menu prices are fair give that there are clearly some good ingredients used, although the wine list had truly excessive mark-ups. The cooking was technically quite skilful, but more than one dish was affected by the food not arriving hot; the kitchen would appear to be a fair hike from the dining room, but this was a problem that marred the meal and needs to be addressed.

The Ritz is one of London's grand dining rooms. A decade ago its food did not match the surroundings, but that has changed as its chef John Williams has radically improved standards since he took over in 2004. In the constant search for the latest fashionable opening, the rise of the Ritz has been unjustly neglected by the food press, and I enjoyed another excellent meal here this week. Langoustines with a morels and a shellfish velouté were lovely, as was a superb game terrine and well-judged venison with one of those lovely old-fashioned red wine reduction sauces that takes hours to make, so few restaurants bother. It is incomprehensible to me that The Ritz does not have a Michelin star; I have had worse two star meals than this one.

The Brilliant continues to produce its authentic Punjabi cooking in Southall, and this week cooked up some excellent aloo tikki, amongst other dishes. Tandoori cooking is always capable here, as were an aloo chollay, while I am very fond of their romali roti.

As this is the last post of 2011, I'd like to wish you all a very happy 2012. This blog will appear a day later than usual next week.