Full Circle at Kyms
Saturday, November 10th , 2018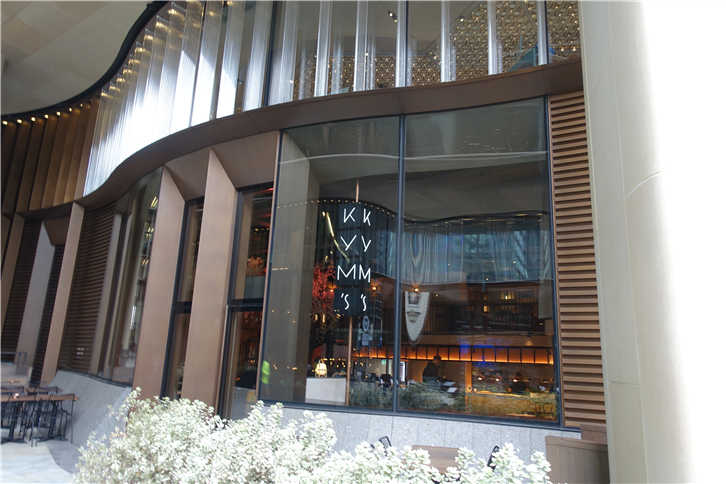 Kyms is the little sister of Michelin-starred A. Wong in Victoria. Kyms has a different menu, with no dim sum and a focus on meat dishes. It has smart décor and is located in the Bloomberg Arcade on the edge of the City. I had an enjoyable meal there, with a particularly good dumpling dish with chillies. They don't make desserts here but the savoury cooking is good.
The Curry Room is a restaurant in the basement of the recently refurbished Rubens Hotel near Buckingham Palace. It has a chef that used to work at Tamarind, and has a cosy room with widely spaced tables. The menu format is unusual in that you get a starter of popadoms and a samosa, then choose a main course that comes with rice, bread and a side dish of the day, followed by dessert. The dishes were quite variable in quality, with a very good butter chicken but a lacklustre dhal and some very poor naan bread. Overall it was an acceptable meal, but not at the sky high prices that are being charged here.
The Watermans Arms is just a small boozer in Brentford near the river, but has an interesting landlord/chef called Gordon, who is married to a Japanese lady. Based on his experience he spent living n Japan, he cooks a few Japanese izakaya (pub) style dishes like donburi and yakisoba, as well as the standard pub fare of fish and chips and pies that you might expect. He cooks well, and although this is not a destination restaurant the dishes are good and inexpensive.
The 2019 Michelin guide to New York came out. No change at the three star level. There were four promotions to the two star level: Gabriel Kreuther, Ichimura at Ichu, Atelier Robuchon and Tetsu Basement, which folded in between the guide being printed and the announcement. New York now has 5 three stars, 15 two stars and 56 one star restaurants.
The 2019 Michelin guide to Seoul also appeared. Still the same pair of absurd three star places, Gaon and La Yeon. There were promotions to two stars for Alla Prima and Mingles, while Gotgan was demoted to one star. Seoul now has 2 three star restaurants, 5 two stars and 19 one stars.