A week in Kyoto
Monday, October 04th , 2010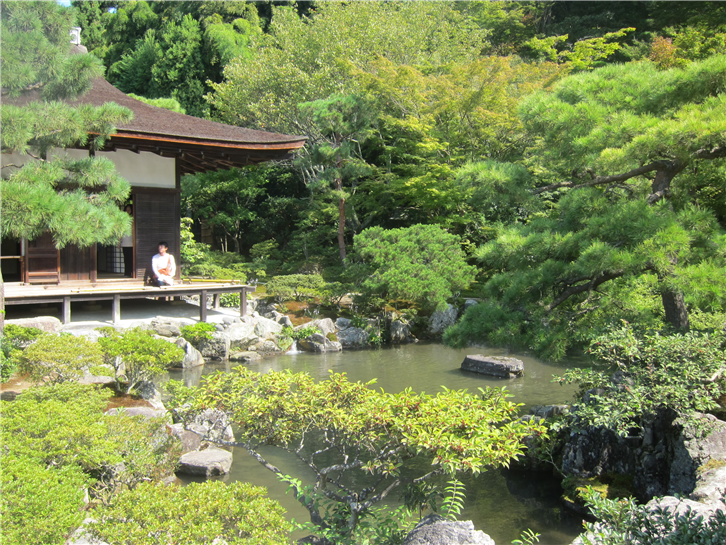 Kyoto was the capital of Japan from the eighth century until the capital moved to Tokyo in 1867. It is remarkably well-preserved, large because the Americans deliberately never bombed Kyoto during the second world war. As the ancient spiritual capital, the US secretary of State (Henry Stimson) felt that bombing Kyoto might infuriate the Japanese people and drive them into the arms of the Russians after the war's inevitable conclusion. This decision meant that much of Kyoto still has buildings dating back centuries. Kyoto is bounded by hills on three sides, which accounts for its original selection as capital as this provided a natural fortification and also has a river running through it. The combination leads to some very attractive vistas. Kyoto is certainly no relic and there are plenty of modern buildings, pachinko parlours and 24 hour MacDonalds, but fortunately there are many examples of older buildings, including most of the most famous temples and gardens (The Silver Pavilion is illustrated) in Japan. The city has no less than 14 world heritage sites and over 4,000 temples. The Golden Pavilion and Nijo castle are particularly impressive, but there is essentially an endless set of places of interest.

The old town has many points of interest, and is a fairly small area just south of the Kyoto City Hall (the excellent Okura hotel, where we stayed on this visit, is well placed for exploring the old town). From a foodie perspective one essential place to visit is Nishiki-koji street, a covered food market near Kawawamachi station that has been a food market since the middle ages. The market opens at 10 a.m. and is both wholesale and retail, so local restaurateurs scour the market for the finest produce alongside housewives. Shops are highly specialised, a practice dating back to the guilds established in the thirteenth century that effectively gave monopolies particular trades to certain families, and to this day some shops sell just freshwater fish but not fish from the sea, or chickens but not eggs, and so on. It is only about 400 metres long, so is quite accessible. As ever in Japan the seafood is fresh.

Some of the shops here have a remarkable heritage. The Aritsugu store has been selling knives and other kitchen equipment since 1560 (though it has moved location a few blocks from its original site since then). Another example is Ichihara Heibei Shoten, which has been selling ornamental chopsticks for over three hundred years.

A book I can highly recommend to explore further when visiting is "Old Kyoto" by Diane Durston, an American who lived in Kyoto for eighteen years; she thoroughly researched the traditional Kyoto family shops and has an obvious love for the city. One example of the kind of fascinating shops that exist in Kyoto is the tea shop Ippo-do, which has been trading for a little matter of 140 years, and which stocks a vast range of Japanese teas. The staff are charming, and you can sample teas at a bar or in a little tasting room; the packaging itself is impressive, and the shop premises seem to be from another era, except for the discreet air conditioning.

Kyoto is especially known for its kaiseki cuisine. This elaborate form of meal originated when the Japanese tea ceremony was developed by Sen no Rikyu in the 16th century, as a way of serving snacks in order to enable people to better enjoy their green tea. Initially these snacks consisted of a few nibbles and some soup, but over time the style became more elaborate, and departed from the strict formality of the tea ceremony. Indeed, cha-kaiseki is the description used for dishes specifically designed for the tea ceremony, while kaiseki is the term used for the restaurant form. A kaiseki meal consists of seven to twelve courses of seasonal food, with the chefs having considerable flexibility as to the styles of cooking or sequence of dishes. The core idea is to show off the best produce of the season, and indeed Japanese people take seasonality to a level unknown in the west - chefs will select a fish from a particular lake, and then switch the source to another lake two weeks later to ensure optimal shun, or peak seasonality. In general, the idea is to highlight five colours, five cooking methods, five flavours, five senses and five viewpoints/considerations. What this means in practice is a series of courses that will include some or all of the following. An appetiser course (sakizuke), a further bite-sized course (oshinogi), a soup (owan) or steamed dish (wan), some raw fish (sashimi), something from the sea and the mountains (hassun), something grilled (yakimono), an assortment of mixed vegetables (takiawase), a main dish (kuchitori), a dish prepared with vinegar (sunomono), a rice dish (gohan) with pickles and miso soup to complete the savoury section of the meal, then a dessert (mizumono) and perhaps additional sweets (okashi).

In order of preference of the six kaiseki meals that we ate in Kyoto, Misai was the best on a purely food basis, followed closely by Kitcho and Chihana. For me there as then a distinct drop in level to the meal at Kikunoi, with the meals at Hyotei and then Tsuruya following.

On this stage of our trip we also had an excellent French meal at Hajime in Osaka, and for a change an Indian meal at Mughal and an Italian meal at Il Ghiottone, as well as a simple but charming tempura meal at Takesebune.

Japan has a reputation amongst Westeners as being a tricky place to visit, but I think this impression is incorrect, despite the language barrier. All train and subway stations have signs in Roman characters (romaji) and the ticket machines have an English language button that immediately gives clear instructions. Kyoto has an excellent public transport system, with efficient subway and good buses, as well as plentiful taxis. Above all, almost everybody seems keen to help out visitors, not just hotel staff but total strangers in the street, and no-one here will try and rip you off or take you the long way around in a taxi. Street crime in Japan is almost unheard of, and you can walk about at any hour of the day or night in confidence. The train system in Japan is of a level that other countries can only dream of, with perfectly punctual trains and plenty of helpful station staff. I found my stay in Kyoto a real pleasure, just as I did a decade ago.
On a separate note, if you missed the quarter final of Masterchef Professionals in which I was a guest critic, you can still catch it on the BBC iPlayer:
http://www.bbc.co.uk/iplayer/episode/b00v3l8v/Masterchef_The_Professionals_Series_3_Episode_3/
I will also feature in one of the other two quarter finals, which is provisionally scheduled for this week, however bearing in mind that the BBC2 shifted the day this week, I cannot be certain which day it will be on, but likely either Wednesday 6th or Thursday 7th.