From Kingston to Tower Hill via Mayfair
Saturday, October 21st , 2017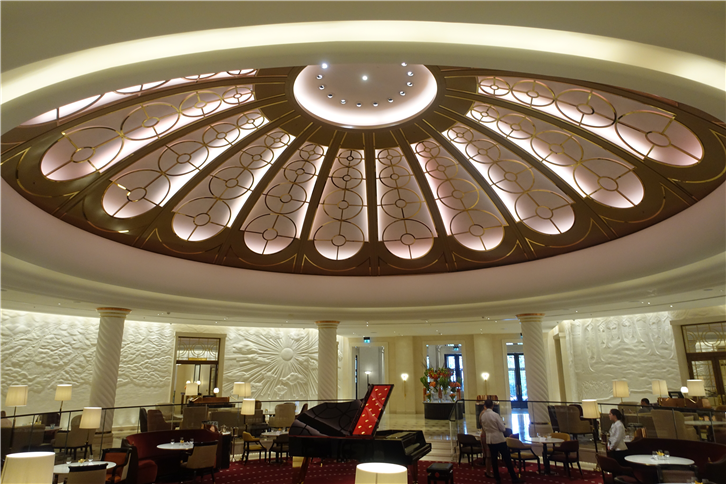 Roz Ana is an Indian restaurant in, or all places, Kingston, but its chef has an interesting pedigree. He was formerly head chef at Chor Bizarre in Mayfair, a restaurant with eccentric but interesting décor and where the food was good when he was actually cooking there many years ago. Chor Bizarre later fell into decline food-wise and recently closed, to be replaced in due course by Indian Accent, whose original branch is in Delhi with a sister restaurant in New York. The food standard at Roz Ana was quite high, with a proper biryani served in its pastry case, and unusually good jeera aloo. Indeed the whole meal was very enjoyable and I suspect this would be much better known except for its somewhat obscure location.
Ella Canta is a Mexican restaurant that has just opened at the Intercontinental Hotel in Park Lane. Executive chef Martha Ortiz has a high profile restaurant in Mexico City called Dolce Patra as well as a TV career as a judge on a restaurant show, so I was hoping for something special. My hopes were raised when I discovered that they had imported a lot of ingredients from Mexico, and even made their own tortillas, a rare thing indeed in the UK. The dining room was smart and the service slick, but sadly my hopes started to fade away as the dishes started to arrive. Salmons tostadas were fine if unexceptional, but a black cod dish was disappointing and pork carnitas merely so-so. Even those home-made tortillas were merely competent. My benchmark for this cuisine in Europe is Punto MX in Madrid, and sadly Ella Canta is a long, long way short of that in every way except the size of the bill, which is considerably larger. I would rather return to the much more basic Killer Tomato, where I could eat several meals for the same price as a single dinner at Ella Canta.
Mei Ume is the second restaurant (after Dame de Pic) to open within the Four Seasons Hotel in Trinity Square, just yards from Tower Hill tube station. The hotel is quite striking, with a particularly fine lobby lounge area with a handsome skylight (pictured) – Mei Ume is accessed from there. It is an Asian restaurant, serving mostly Chinese food, but there is also a Japanese sushi chef, and a section on the menu for sashimi, sushi and maki rolls. We stayed in Chinese territory on this visit, enjoying a dim sum basket, nice quality stir-fried beef and sweet and sour pork. The bill is quite high and that is really the concern. However this is the Four Seasons and someone has to pay back that vast property investment, but with Mei Ume's attractive room and very good service I imagine that it will do fine.
The Chicago Michelin 2018 guide came out. No change at the top, and one promotion to two stars for Smyth, while 42 Grams and Tru were deleted (both had folded). At the one star level there were new entries in the form of Elske, Entente and North Pond, and a demotion for Longman and Eagle. Chicago has a pair of three star restaurants with Alinea and Grace, four two stars (Sixteen, Acadia, Oriole and now Smyth) and nineteen one stars.