Back to London
Saturday, July 16th , 2016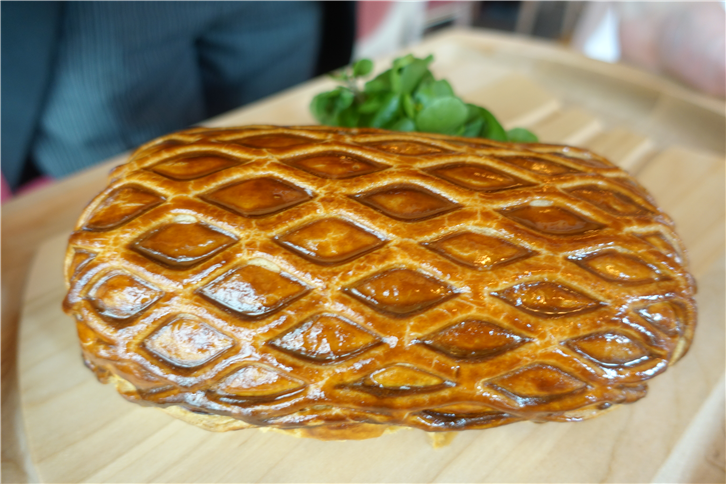 The Ritz is one of my regular haunts in London. It has a gloriously grand dining room, and serves food of a high standard whose quality is obvious to everyone except Michelin, who consistently snub it. At my most recent meal I had a superb John Dory dish with a terrific champagne sauce that showed superb balance. Beef Wellington (pictured) was delightful, and both desserts that I tried demonstrated the real skill of the pastry section here. Even at a midweek lunch the Ritz is always packed, showing that in this case the public has more sense than Michelin.
Poppy's is a tiny Thai café in Hammersmith, whose eccentric décor I found rather charming. The cooking here is pretty good, with a very well-made red curry with prawns, and carefully cooked bak choi amongst other dishes. The prices are very low indeed, and you can bring booze in for a nominal £1 charge. This is not a destination restaurant, but if you are in the area then you could do a great deal worse.
Café Monico is a Soho House venture slap in the middle of Shaftesbury Avenue, in what used to be a nightclub. They have done a good job with the large dining room, spread over two floors with a relaxed, airy feel. The menu is appealing, as it always is with Soho House restaurants. The cooking was a bit more erratic than it might have been, with a very enjoyable rigatoni with lamb ragu, but also a soggy haddock and chips and a dessert that needed more flavour from its notionally main ingredient. Service was good but this felt as if it was still bedding in, even four months after opening.
The Reform Social and Grill has nothing to do with the venerable Reform Club. It is within the Mandeville Hotel in Marylebone, offering fairly traditional British fare, with a Josper grill at the heart of its kitchen. Sadly, an expensive piece of kitchen equipment does not in itself equate to having staff that can take advantage of it. We had a generally shocking meal, with a recurring theme of dried out and overcooked dishes, redeemed only by some surprisingly competent chips. Throw in a laughable wine list and this is a restaurant to avoid. The paying public had clearly reached their own conclusions, with a virtually empty dining room (other than a handful of what appeared to be hotel guests) on a Thursday night in central London.
I also sneaked in another lunch at the lovely Parlour, though on this occasion I didn't write up a full review (there are plenty of prior ones). Suffice it to say that Jesse Dunford Wood's playful yet precise cooking deserves a much wider audience that it currently gets. It is superb value, and in the summer it has an attractive garden at the back of the pub.