I venture to the wilds of Hoxton to try Bacchus
Saturday, October 27th , 2007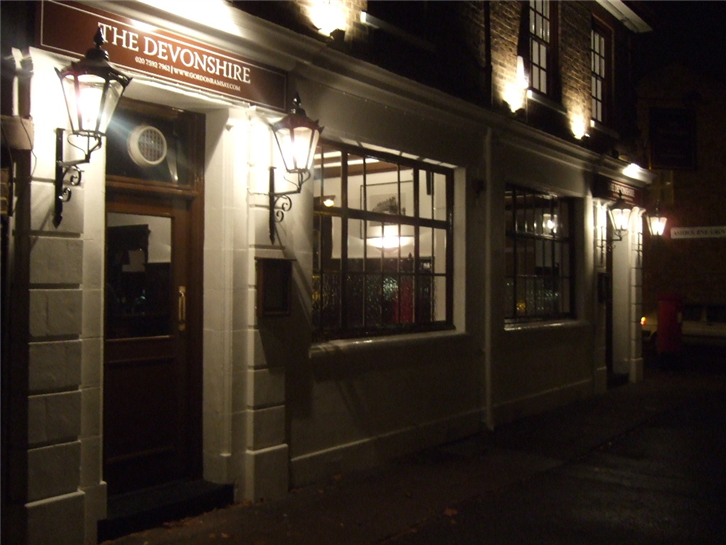 The highlight of the week was my first visit to Bacchus. I am usually wary of experimental modern food, and indeed not everything here worked, but it was a pleasant surprise. The service was terrific and the nine course tasting menu had some enjoyable taste combinations. This seems a place with its heart in the right place, and even with some ups and downs is a breath of fresh air after the seemingly endless and somewhat cynical bistro openings recently in London, where the aim is to make money rather than to deliver interesting food. This is a difficult location but best of luck to them.
Talking of money making machines, the Gordon Ramsay empire comes to Chiswick in the form of the Devonshire gastropub (pictured). I am generally sceptical of gastropubs, so many of which seem to deliver mediocre food that is usually far from cheap. However the Devonshire gets the formula about right, with an appealing menu and simple dishes that are well executed. It is a tad expensive, but generally the cooking is good.
I also ventured to the Rhodes W1 Brasserie in the Cumberland Hotel, with less success. A few weeks ago I reviewed the more formal Rhodes W1 restaurant, but the brasserie was quite disappointing. Both dishes I tried were flawed, and indeed were well below the standard that one would hope for. Gary was an excellent cook when at the Greenhouse, but seems to struggle to get anything like the same level of culinary success in the ventures he puts his name to these days.
Rasa Samudra is reliable, providing authentic Keralan food in busy Charlotte Street. The dosa is an excellent example of South Indian food, potato filling with spices wrapped up in a crisp rice flour pancake. Vegetables are treated well here, with both a bhindi and a stir-fried Savoy cabbage dish having good taste. A tilapia curry was less successful, the sauce being rather one-dimensional, but the paratha was excellent as ever, light and dry without a hint of greasiness.
Bar Shu had rave reviews when it opened, but I had a poor experience this week. I had a fine Sichuan meal just a couple of weeks before in the USA, so had high hopes of something similar, but the dishes here I had ranged from ordinary to downright poor in one case. Moreover the service was really bad: Fawlty Towers bad. Given this place is by no means cheap such service is inexcusable. The Sichuan food I had in Boston was less than a quarter the price of Bar Shu, and substantially better. Perhaps I had an exceptionally bad experience given the generally good reputation of this place, but it seems to me there is big difference between printing an authentic Sichaun menu and actually delivering it.
Next week I visit Hibiscus.