There is real food in Tottenham
Saturday, February 13th , 2010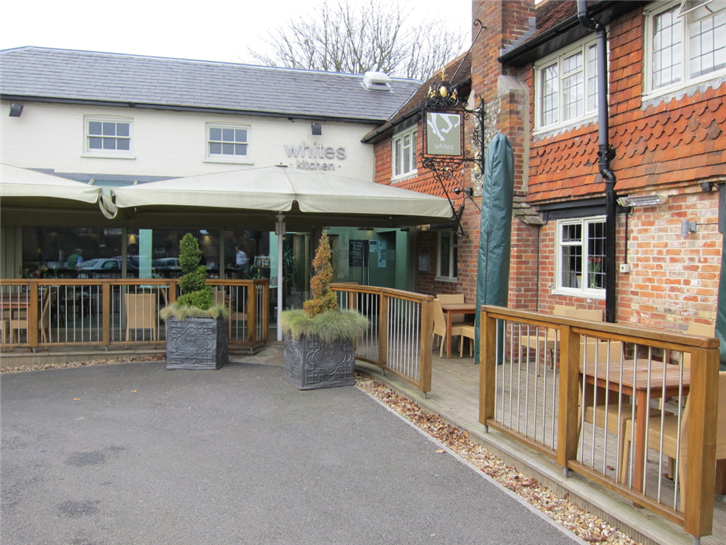 Quite what possesses someone to open a fine dining restaurant in Tottenham is beyond me. It is area best known for its occasional shooting of policemen (from the Tottenham Outrage of 1909 to the Broadwater Farm Riots in 1985) and yet somehow The Lock, open for four years now, succeeds. The cooking is technically good, they make their own bread from scratch, and the service was genuinely friendly. Highlights included risotto cake topped with tiger prawns (illustrated) and good tarte tatin. If you are ever in the area, then ask yourself why. But if you do end up there, the Lock is worth a visit.
Charlotte's Bistro is a relative of Charlotte's Place in Ealing, and indeed the head chef of the Ealing establishment is now cooking at the Chiswick branch. The place sticks sensibly to familiar bistro dishes, and is fairly priced. There were some technical inconsistencies, but I have certainly eaten much worse food, and as a bonus the service was particularly capable. The restaurant is already packed out a week after opening, suggesting that the denizens of Chiswick are eminently capable of supporting a new restaurant if its follows an appealing formula.
Franco Manca continues to deliver its lovely pizzas, and they have expanded the menu somewhat. They now offer garlic bread (made from the same pizza base, so lovely as well as generous in size) and a few ice creams made by an Italian friend of the owner. A chocolate ice cream involved high quality chocolate, but the texture was a little grainier than ideal. Still, the pizzas are the thing here.
Whites (pcitured) is a restaurant tucked away in a village in Sussex, but with an unusual interest in using local produce; so much so, indeed, that each dish has listed with it the number of miles that the main component travelled to the restaurant from its source. This demonstrates a rare awareness about just how local the kitchen's suppliers really are. Given this intriguing premise I wish the cooking had been rather more even, though there were certainly some high spots, such as home-made bread and excellent triple-cooked chips. Given some of the utterly unseasonal ingredients I have been presented with recently in some London restaurants, such attention to detail is to be admired, even if the meal overall did not quite live up to its promise.
I also enjoyed a dinner at the Harwood Arms arranged by Steve Plotnicki, who runs the Opinionated About Dining website. With a series of excellent game dishes, including some lovely fallow deer braised in cider and hare rissole with tasty Oxford sauce, a fine time was had by all.