This week includes new 3 star Hertog Jan
Saturday, February 25th , 2012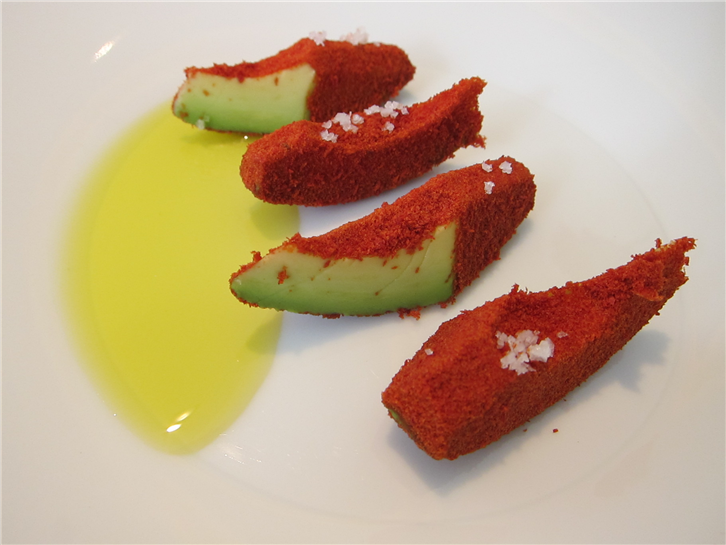 Hertog Jan in Bruges gained a third Michelin star in the 2012 Guide, delivering modern cooking that emphasises bold flavours in some deceptively simple dishes. Some of these, such as a lovely langoustine dish, worked very well indeed, others seemed to be trying for shock-effect value, such as an absurdly sour pigs head terrine. Presentation was a strong point, such as a dish of avocado with tomato powder and olive oil (pictured). Most dishes worked well, and the price of the food was not excessive, though their policy of a (large) surcharge to adjust the tasting menu for dietary allergies seems a dreadful idea to me. The wine list has some unusual growers, though they really need to update their English version of the web site, which is (at the time of writing) worth your reading for its inherent entertainment value alone. For example, of the chef: "His mother spoon-fed him the word 'delicious' from an early age. Questioning this wonderful word has become his mission in life. He dissects it, examines it, tastes every single letter and recomposes it into something truly delicious – for the eye, the nose, the tongue, the skin..". Really, I couldn't make this up, and there is more, so read it quickly before they cotton on and employ a marketing person with a sense of irony. As for the food, I have eaten worse 3 star meals, but overall I found it more a strong 2 star than genuinely operating at 3 star level throughout the meal.

Mele e Pere is a basement trattoria in Soho with an Italian chef who has worked in several classy London kitchens. The menu had a few interesting departures (you do not often see tripe on a menu these days), though the best dish that I tried was a classic spaghetti carbonara. Other dishes that we tried were not quite to this level, and overall it seemed pleasant but a little ambitiously priced for the level of food that appeared.

The chef at The Admiral Codrington, Fred Smith, has a fascination with burgers, and on a visit this week I tried two miniature burgers, one a take on a Big Mac, the other a classic bacon cheeseburger. The latter was the better of the two, and was really top notch, the high quality of the beef used really showing through. Other nibbles and side dishes (such as a good macaroni cheese) were pleasant, but the stars of the show here are the burgers, which are up there amongst the best in London.

The Bombay Brasserie, the original up-market Indian restaurant in London, had a major (and much needed) makeover just over year ago. The main dining room still seems a bit soulless to me, though the conservatory is attractive. This revamp extended to a major overhaul of the cooking team, and I had another excellent meal here this week. Not every dish worked equally well, but the best dishes were genuinely top-drawer: chicken tikka was of a standard I have rarely encountered, even in India and naan bread was superb: as light and fluffy as could be. A vegetable side dish of peas and cauliflower was also really classy. It is not a cheap place, but if you have not been since the revamp then I suggest you give it another try.

Another good Indian restaurant in London is Trishna in Marylebone, which specialises in seafood. The fish tikka made from stone bass with a peppery coating was an excellent dish, as was an unusually good okra dish. There is still a little inconsistency in the level of the dishes here e.g. the breads could be improved, but this is certainly one of London's more interesting Indian restaurants.